Kylesa


Ultraviolet
Season Of Mist Records [2013]



Fire Note Says: Savannah stoner metal band continue refining their sound with very good results.
Album Review: Like fellow Georgian genre-hoppers Baroness, Kylesa is a bit of a paradox. Their early material was heavy on swamp sludge but as each personal tragedy, band shake-up or label change occurred they moved into ever riskier sonic territory. With each album since 2006's Time Will Fuse Its Worth, Phillip Cope and Laura Pleasants (the two remaining original members) have been adding layers to Kylesa's powerful southern brew. By 2010 and the release of Spiral Shadows the band had successfully incorporated psych, 90's alt-rock, prog and shoe gaze into their music. Now with the ambitious Ultraviolet (their sixth full-length and second for Season Of Mist) they have fused all of that into a cohesive and entertaining whole. The hard core head bangers may not like it, but for the rest of us it's a near revelation.
Last year Baroness released the brilliant Yellow & Green and, along with Atlanta's Mastadon, really helped put Georgia metal on everyone's radar. It also raised the bar exceedingly high. No longer could a band of similar stripes coast along and expect critical and commercial success. More is now required. Kylesa appear to get that and Ultraviolet delivers in unexpected ways. From the first moments of "Exhale" one notices that, although Cope and Pleasants continue sharing vocal duties, this is becoming Laura Pleasants' band. Not that Cope isn't intrinsically involved in every aspect (he is listed as producer) of the album, it's just that she has found her voice. Her range has expanded and her tone has gone from screech to other-world goddess. On "Unspoken" she commands full attention despite the raging drop D power chords and dual drummer attack. There are tons of effects pedals in use and subtle atmospherics not normally associated with a metal act. Classic Rock informs "Grounded" in its riff heavy structure and double lead guitar thirds. Coming in under three minutes, "We're Taking This" begins as a standard punk-style burner and then takes a strange left turn (twice) before it unexpectedly ends. "What Does It Take" is another short track that highlights one of the album's greatest strengths – brevity. Too often bands like this feel the need to pad their songs with multiple guitar solos and such. They also have the annoying habit of padding their albums with filler tracks. No such thing goes on here. If I have a complaint about Ultraviolet it might be that I want more.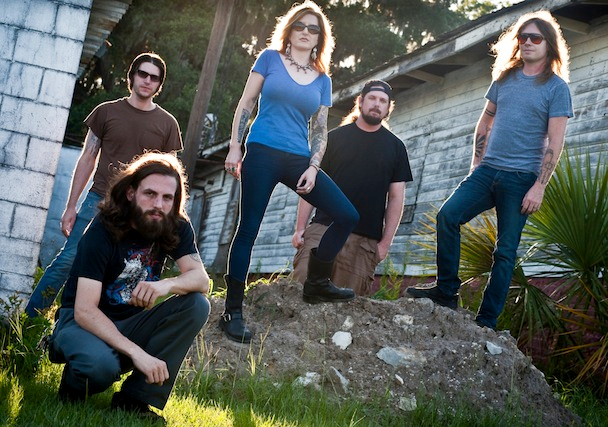 The album closes on a very high note with two great songs. "Quicksand" is a narcotic jam that makes me kind of seasick listening to it. The final track, "Drifting," is the albums longest at five minutes and it too has the effect of disorienting. The slower pace and Cure-like guitar sound eventually give way to a thundering coda which quickly evaporates in a synth swirl and then is no more. Just like that, done. Not a bad trick for a metal band, but if Kylesa have proven anything in their ten year odyssey it's that defying expectations is their stock-in-trade. This might not be the best metal album of 2013 (God knows I'm not going to sift through the thousands of releases in that moribund genre) but it's a pretty terrific album on its own merits. And that's good enough for me.
Key Tracks: "Unspoken", "We're Taking This", "Quicksand"
Artists With Similar Fire: Baroness / Mastadon / Torche
Kylesa Website
Kylesa Facebook
Season Of Mist Records
-Reviewed by Scot Lade
Latest posts by Scot Lade
(see all)