Saturday Looks Good To Me


One Kiss Ends It All
Polyvinyl Records [2013]



Fire Note Says: One Kiss Ends It All draws heavily from the past to create pop for the present.
Album Review: Saturday Looks Good to Me first came to my attention with their 2003 album All Your Summer Songs, which was about as fine an example of indie pop as one is ever going to hear. One Kiss Ends it All, the new album from Fred Thomas and his revolving cast of compatriots, has much in common with Summer Songs. Both albums draw considerably on girl group pop from the 60's as well as the baroque pop of bands like The Left Banke, as well as drawing heavy inspiration from The Beach Boys. It's an enticing mix of pop for sure!
One Kiss Ends it All features a multitude of female vocalists on the record, and each one performs admirably, they are often interchangeable and I had a hard time figuring out who sang on what, but that doesn't necessarily matter. What really matters is that the songs are immaculate, and the vocals are unquestionably gorgeous. The production is also remarkably lush, and with the exception of some modern touches and tricks here and there, this album sounds like it could have been recorded at 45 years ago. "The Everpresent New Times Condition" and "One Kiss" are two exceptions to that. Both feature a more lo fi hazy sound that sound distinctly modern, but the instrumentation and melodies are still throwbacks to the 1960s. "Negative Space" is my pick for the best song on the album, it's a yearning keyboard based song, that features a vocal melody that is to die for. It sounds very similar to what Dum Dum Girls and Best Coast are doing, but retains a more traditional musical sound, whereas their sound is more contemporary. "Polar Bear" reminds me slightly of Belle and Sebastian, which makes sense as they also have a lot of the same influences that Saturday Looks Good to Me proudly show off. The album closes with two out of the last three songs being sung by Thomas, in fact these are the only two songs on the album that feature prominent male vocals. It was a bit jarring hearing "Johnny" at first. It is a fairly lo fi number, featuring guitar and strings and the one lone male vocal, it at first seems out of place on the record (I had to look at first to see if it was still the same album), but it is one of the prettiest songs on the record. "Space Children" is the full blown epic that closes the record. It starts as a pop song, before shifting it's gears about half way through when the horns come in for a very elephant six sounding section, before changing gears again and closing the album out completely on another lo fi 45 second trippy sound loop. While it is an impressive track, I'm not quite certain, that it fits in well with the rest of the album. It closes the album on an odd note.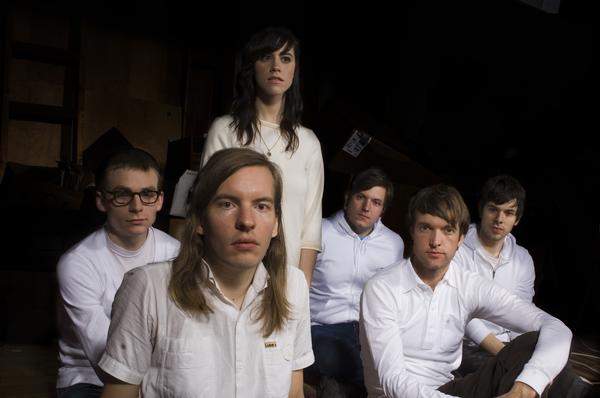 The rest of the record is pretty solid. It has been nearly 6 years since the last Saturday Looks Good to Me album, so if you are a fan from way back and are curious, I would recommend this record to you with zero hesitation. If you have never heard they band, I would say jump in, and then go back and get some of the older records to get a fuller understanding of the band. This is fine indie pop, and that's good news in my book.
Key Tracks: "Negative Space", "Johnny", "Invisible Friend"
Artists With Similar Fire: Camera Obscura / Belle and Sebastian / I'm from Barcelona
Saturday Looks Good To Me Website
Saturday Looks Good To Me Facebook
Polyvinyl Records
-Reviewed by Kevin Poindexter
Latest posts by Kevin Poindexter
(see all)