Baths


Obsidian
Anticon Records [2013]




Fire Note Says: After a near death experience, Will Wiesenfeld drops a near masterpiece.
Album Review: On his 2010 debut as Baths (the woefully neglected Cerulean) Will Wiesenfeld was content to let his laptop do most of the talking for him. A cool hybrid of the LA beat scene and the then-burgeoning chill wave movement, his vocals were secondary. They were pushed back in the mix, his faint whisper of a falsetto serving as one instrument among many. The homo-erotic leanings hinted at on "Lovely Bloodflow" are now in full bloom and the lyric sheet has bulged alongside his oversized libido. A serious bout with E-coli sent Wiesenfeld to death's doorstep and the follow-up to his stellar debut is full of visions of mortality, Greek tragedy and the aforementioned sexuality of a gay man who came out to his brother with the line: "I've got the fags real bad." After Xiu Xiu, Hidden Cameras, Wild Beasts and Perfume Genius this kind of confessional songwriting isn't as shocking as it would have been ten years ago, but it still can be an effective device.
Death looms large throughout Obsidian but birth is apparently not much better in Baths' world. On album opener "Worsening" it's explained to us: "Birth was like a fat black tongue/Dripping tar and dung and dye/Slowly into my shivering eyes" and later asks "Where is God when you hate Him most." The beats are still glitchy but not as heavy and bass driven. Here they do way more than provide rhythm. They generate friction and heat with layers of complexity. The obvious single "Miasma Sky" sounds like a Max Tundra track (hell yeah!) and tellingly asks: "Tall rock shelf are you maybe here to help me hurt myself?" "Ironworks" begins with piano and strings before the click-click beat and delicate vocals kick in and we find Wiesenfeld musing on more carnal stuff: "I am the sweet side/In Victorian doorways/In tempestuous foreplay." Overall, there is more emphasis on organic sounds as these songs run their course, making the dark themes more relatable. The up-tempo "Ossuary" marries motorik rhythm with more death-obsessed thoughts. "Once interred, in turn to turn to bone/Fate unseen, kiss the stone" pretty much sums up the mood.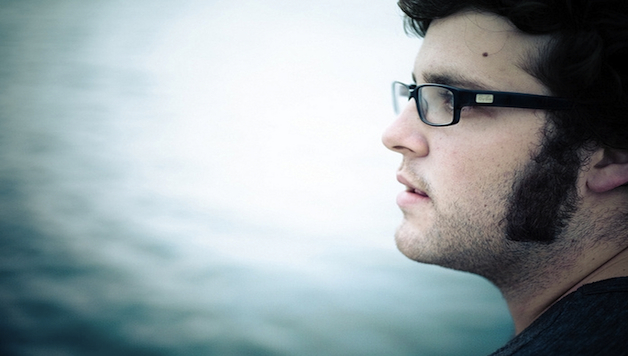 One track that stands out for sheer gall is "Incompatible." Intimacy is reduced to a test drive (of sorts.) "First boyfriend/You live in my house and we share a toilet seat." The bedroom is both battlefield ("Covers in divisive use") and massage parlor ("Nurse this erection back to full health.") After letting all that set in he decides his partner's just not worth the trouble: "Failed your maiden voyage…this was never your home." Later on the synth pop charmer "No Eyes" the urges return: "It's not a matter of if you mean it/But it's only a matter of come and fuck me." During "No Past Lives" the flipside of sexual desire reveals itself with "Lodged in the rectal wall of agony/Hell is our only home." Set highlight "Phaedra" presents a beautiful melody while Wiesenfeld seems to hedge his bets when singing "The thought of dying is dormant in me." But never absent. Obsidian ends with an industrial rocker ("Earth Death") and the obligatory instrumental. The former is especially strong and drives home the central idea of the album: "My self cannot get out of being pulled into the earth." It's a powerful image in keeping with the album's title. Though consumed by some disturbing thoughts, Baths delivers an extremely listenable record in Obsidian. There's greatness on the horizon for this young man if his records continue progressing at this rate.
Key Tracks: "Phaedra", "Miasma Sky", "Worsening"
Artists With Similar Fire: Flying Lotus / Toro Y Moi / Daedelus
Baths Website
Baths Facebook
Anticon Records
-Reviewed by Scot Lade
Latest posts by Scot Lade
(see all)