David Byrne & St. Vincent


Brass Tactics EP
4AD Records [2013]


Fire Note Says: A free EP from David Byrne & St. Vincent – sure, why not?
Album Review: St Vincent and David Byrne, sentimentally speaking, hold a few memories for me. First off, Byrne's Taking Heads were a big part of my childhood. As they came blaring through our stereo system my dad and I would be rocking and rolling around the living room. Second, Love This Giant, the duo's debut album, was my first assignment for our lovely little site The Fire Note. So it's nice that the duo keeps the collaboration going with the free EP Brass Tactics. It includes a b-side from the Love This Giant sessions, remixes of two tracks, and two live songs taken from each performer's catalog but performed with their touring band.
While not super impressive, it's still a nice gesture. There's a reason that the track "Cissus" made the b-side reel. While it might showcase beauty, its meticulous waltz tempo and careful arrangements wouldn't have gelled with the rest of Love This Giant. As for "I Should Watch TV (M. Stine Remix)," there are no revelations: little seems changed here except for a more rhythmic, heavy dance beat. The same goes for "Lightning (Kent Rockafeller Remix)," and while it's one of the more dreary songs off Love This Giant, it's shaped here with the same focus on dance, with a bit more of a positive edge.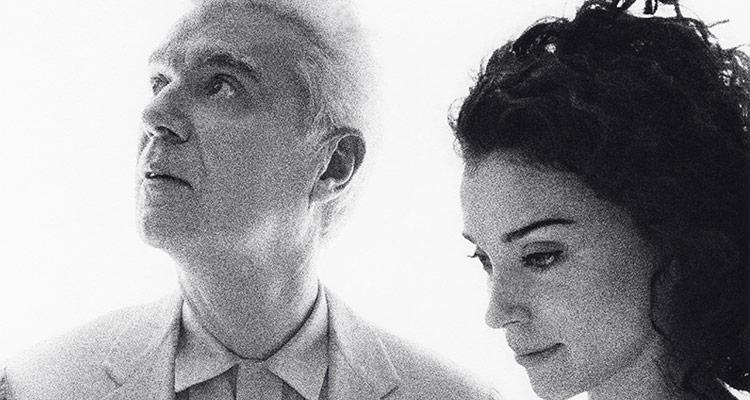 What is quite cool are the two live brass renditions of St. Vincent's "Marrow" and Byrne's "Road To Nowhere." For "Marrow" the brass does a perfect job of nailing the track note for note. It's just sad that some of the St. Vincent guitar snarl couldn't be placed along with it. Closing out the EP is the Talking Head classic "Road To Nowhere." Annie Clark sounds right at home on the opening vocal harmonies, and Byrne sings happy as a lark, never skipping a beat, while the brass band plays their role beautifully.
So even though I was quite critical in the beginning, there really isn't any reason not to download the Brass Tactics EP. It's free, packed with great live tunes, and it's more David Byrne & St. Vincent. What more could you ask for? It's a win-win!
Key Tracks: "Lightning (Kent Rockafeller remix)", "Marrow (Live)", "Road To Nowhere (Live)"
Artists With Similar Fire: Talking Heads / St. Vincent / Dirty Projectors
David Byrne & St. Vincent Website
David Byrne & St. Vincent Facebook
4AD Records
-Reviewed by Christopher Tahy
Latest posts by Christopher Tahy
(see all)