Alex Bleeker And The Freaks


How Far Away
Woodsist Records [2013]



Fire Note Says: Alex Bleeker's sophomore album will take you back to a different era of Americana.
Album Review: Alex Bleeker is the bassist for Real Estate but his solo musical outlet with The Freaks has continued on to the more realized sophomore record How Far Away. As with his 2009 debut, Bleeker pulls together an indie talent of "freaks," that includes Mountain Man's Amelia Meath for some nice backing vocals on four tracks, Woods' Jarvis Tanviere, Real Estate's Jackson Pollis, Big Troubles' Sam Franklin, along with several other cast members that lend an instrument here and there to the mix.
If you are new to Alex Bleeker then you might be surprised by the Americana flavor of How Far Away and how different this band is to his day job with Real Estate. This of course is what you hope for when any band member ventures out on his own and the loose and laid back vibe here on How Far Away is warm, inviting and timeless. You can hear it right from the album opener, "Don't Look Down", that possesses an upbeat guitar run with foot tapping timing as Bleeker supplies a little off key vocals that have a slight drift upwards in tone when he ends his notes. If Pavement was more country-fried, I think you would land somewhere close to Alex Bleeker's voice.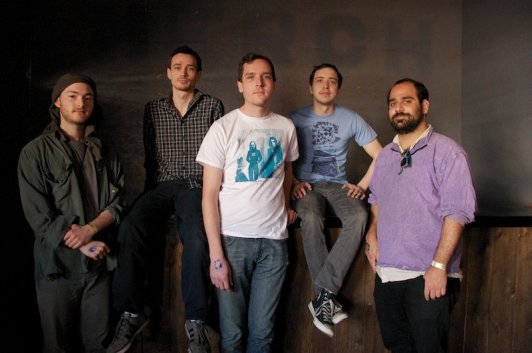 The entire record has this solid free rock n roll undertone but keeps things very modern in places as the more lo-fi burner "Home I Love" holds your ear and the duel vocals in the peppy "Who Are You Seeing?" is an album highlight. The album succeeds when Bleeker and the Freaks embrace their Americana side like on the engaging "Step Right Up (Pour Yourself Some Wine)" and struggle a bit when they venture too far outside the box as the 70's sounding "Steve's Theme", complete with keyboards, does not go anywhere while the psychedelic "Time Cloud" really messes with the album's flow as its slow tempo and old school organ backdrop makes you quickly want the next track.
What I liked about Alex Bleeker and the Freaks was that they created a sophomore record that makes you feel good when you listen to it. The record is comparable to having the radio on when each next track satisfies your listening needs and you don't really care what is next; you just want it to maintain your mood. That is exactly the way How Far Away comes across and even though it may not be as immediately accessible as a Real Estate album, Alex Bleeker and the Freaks have a nice slow grow to them that will definitely have me tuning in for a third round!
Key Tracks: "Don't Look Down", "Who Are You Seeing", " Step Right Up (Pour Yourself Some Wine)"
Artists With Similar Fire: Neil Young / Pavement / The Band
Alex Bleeker And The Freaks Facebook
Woodsist Records
-Reviewed by Christopher Anthony
Latest posts by Christopher Anthony
(see all)