The Lone Bellow


The Lone Bellow
Descendant Records [2013]



Fire Note Says: The Lone Bellow offer a set of songs wrought with emotion and heartache on their self-titled debut!
Album Review: I love radio. I still mourn the loss of WOXY which I am lucky enough to have been in broadcast range of when they were still on the air. A couple of years ago, a Public Radio station out of Northern KY expanded their air waves and is now accessible 75 miles north of the Ohio River. There is no substitute for the spontaneity of a DJ inspired playlist and hearing said DJ's lead in with a quirky little tidbit about the band and their upcoming tour schedule. I have discovered some of my favorite bands of late with the help of this little independent public radio station and one of them is The Lone Bellow. An amazing trio with roots in Atlanta but originating from Brooklyn, The Lone Bellow have the kind of chemistry born of the sometimes beautiful brutality of life experience that magically translates into cathartic songwriting.
On their self-titled debut, The Lone Bellow offer a set of songs wrought with emotion and heartache in an honest and authentic voice, their Southern roots clear and proud. "You Don't Love Me Like You Used To" is a Honky Tonk inspired tune reminiscent of George Jones and Tammy Wynette but in a fresh, delightful way. "Looking for You" is so soft and raw you can feel the ache in your bones as you listen and "The One You Should've Let Go" is so sing along wonderful that it is one of my favorite songs on the album. The fact that it is the last track is almost shameful, or brilliant, as it leaves you hungry for more.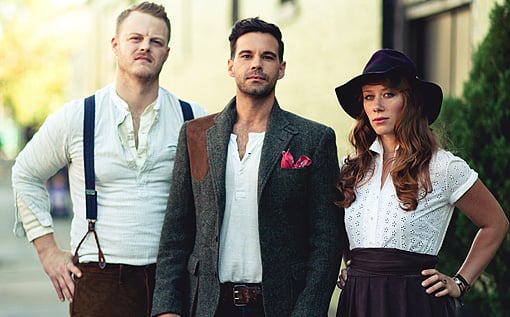 Some of the best songwriting comes from places of deep pain or reflection, from experiences that we don't expect or ask for but nonetheless become a part of our personal tapestry of transformation. Lead singer and head songwriter Zach Williams began playing and writing while with his wife in an Atlanta Rehabilitation center as she recuperated from what was thought to be a paralyzing horse accident. I can only assume that from this place of grief, fear and uncertainty a brilliant songwriter was created. His wife recovered, her injury not being as grave as initially thought, and Williams joined with Kanene Pipkin (mandolin) and Brian Elmquist )guitar) and their trio of voices moved to New York to make up The Lone Bellow.
Life, especially relationships can be complicated and messy. There are times when it may seem as if it would be easier to walk away and leave all the day to day heart wrenching reality of it all behind. Listening to "The Lone Bellow" gives you the perspective that it is in the living that makes life what it is and this comes through with such clarity in their music. If I have one criticism (this is a critical review after all) it is that the cadence of the record seems off. It doesn't flow in a way that feels harmonious to me, however, with each listen that sin is more and more forgiven and the appreciation of each these great songs shines through in their individual merit.
Key Tracks: "You Don't Love Me Like You Used To", "Looking For You", "The One You Should've Let Go", "You Never Need Nobody"
Artists With Similar Fire: The Lumineers / The Civil Wars / The Head and Heart / Kolpecky Family Band
The Lone Bellow Website
The Lone Bellow Facebook
-Reviewed by Paige Michelle
Latest posts by Paige Michelle
(see all)