Man Or Astro-Man?


Defcon 5…4…3…2…1
Communicating Vessels / Chunklet Ind. [2013]



Fire Note Says: Beam me up! Man Or Astro-Man? are back with another intergalactic screamer!
Album Review: It has been nearly 12 years since Man Or Astro-Man? visited earth with a batch of indie surf rock, so the landing of their new long player Defcon 5…4…3…2…1 is greeted here with open ears. The original lineup of Birdstuff, Coco and Star Crunch reformed back in 2010 to play a series of shows that now has sparked the transporter which produced this full length.
From the opening instrumental, "Defcon 5", you receive a full rock jolt and reminder of how energy charged Man Or Astro-man? was in the past. This track blasts you with a hyper and sophisticated roll through the Milky Way with its intensity. This carries you right into the first vocal track on the album, "Antimatter Man", that has an explosion of drums and one of the grittiest riffs the band has ever recorded. It reminds me of some of the great stuff Girls Against Boys was releasing back in the 90's; especially with the deep somewhat muffled vocals. "All Systems To Go" features a robot sounding vocal as the surf flies and "Disintegrate" is another highlight on the record as Man Or Astro-Man? once again find a strong groove that just drives their sound and delivers vocals that keep pushing the song.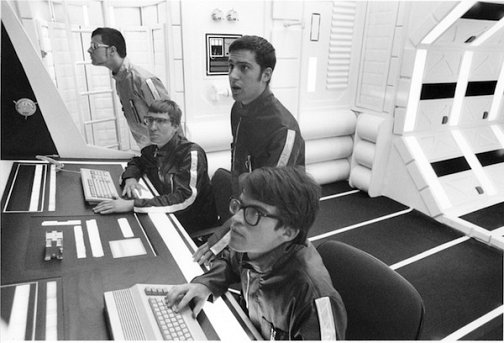 Defcon 5…4…3…2…1 is one of the hardest hitting albums the band has ever released as the song structures are tight, the vocals are intense and the drums thunder as loud as the dominate guitar. At 36 minutes the album goes by quick. The record only had several small distractions for me as the "Defcon" instrumental tracks, such as "Defcon 2" is just sort of a 2 minute floating space track with bleeps and blips. I get why the tracks are here but several of them break up the excellent established flow of the record. It is really a small quip about the record because this album is way heavier than I ever expected and that turned out to be a great thing.
Another refreshing part about this album is just knowing that Man Or Astro-Man? are killer live and everything on this record will prove that point. With that said, fans should flock to this album as it easily rivals the excellence found on their earlier material. If you are not into surf music then Man Or Astro-Man? probably won't be for you but people looking for something unique, Defcon 5…4…3…2…1 is one record that will fill that need and then have new followers working their way back into the group's catalog.
Key Tracks: "Antimatter Man", "Codebreaker Seventy Eight", "Electric Arc"
Artists With Similar Fire: Girls Against Boys / Brainiac / Shadowy Men On A Shadowy Planet
Man Or Astro-Man? Website
Man Or Astro-Man? Facebook
Communicating Vessels
Chunklet Industries
-Reviewed by Christopher Anthony
Latest posts by Christopher Anthony
(see all)