Kim Deal


Hot Shot 7″
Self-Released [2013]


The Breeders are in full swing tour mode right now behind the Last Spalsh anniversary but that did not stop release number two from Kim Deal's solo series. It is great to see this released as I will admit that with The Breeders reunion shows I was not so sure we would see the continuation of the solo series for some time.
After getting a taste of new material the anticipation for round two was a bit higher and the A-side, "Hot Shot", does not disappoint. It is a classic sounding Deal track with layered vocals and a mid-tempo beat that sounds right out of The Amps playbook. It holds a consistent intensity as the guitar revs up in the middle of the track and it will have you singing along "I need a hot shot"!
The B-side, "Likkle More", is a quiet guitar strumming number that is a little over 1:40 in length and it features Kim's vocals soft and floating as if she were singing a lullaby. The track leaves you wanting more but is still perfectly timed out because its short running time is its strength.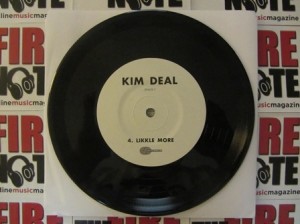 This limited edition of 1,000 copies is as plain and simple as it gets. The black wax has a very generic white label and the record is issued in a plain white die-cut sleeve. The track numbering does reflect the series as the songs are labeled 3 and 4. The first 7-inch sold out quickly so I would recommend if you would like a copy of number 2 in the series – go now.
Kim Deal Website
-Feature by Christopher Anthony
Latest posts by Christopher Anthony
(see all)