Dead Confederate


In The Marrow
Spiderbomb Records [2013]



Fire Note Says: Dead Confederate makes no attempt to expand boundaries, but still keep everything solid.
Album Review: Augusta, Georgia's Dead Confederate never set out to become the greatest band in the land. Consider that a good thing because if they really were trying then Hardy Morris' signature vocals might be something different, and their sound of grunge, southern rock, and psych/shoe gaze might have never been harvested. I'm not trying to harp on the band because, In The Marrow, their follow up to mini album Peyote People dropped earlier this year, keeps structure and ideas fairly similar, but still manages to craft a solid body of songs.
One thing that didn't carry over from Peyote People was that western themes and sounds that seemed to punctuate the record. You have later tracks on the album like one of my favorites, "Big City Life" and final track "Winter Waters" that carry the soothing whine of the pedal-steel. But, only look to these two for a tinge of western inspiration. In all actuality what the album seems to do is take two songs and concentrate on a certain style associated with Confederate. You want two infinite, haunting and expansive psych pieces? Look no further than "Slow Poison" the album opening, 7 minuet, space and time continuum shifting drone. Then follow those two songs later by title track, "In The Marrow". With Morris's airy vocals, heavy fuzz lurch, shimmering guitar chords, and lush over blown sound this track fits its psychedelic roots perfectly. Want another example? Take the two straight ahead rock and rollers. "Vacations" takes Dead Confederate from psych space cowboys to crunchy power-pop rockers. Followed by a Dinosaur Jr. inspired rabble rouser "Bleed-Through". I have to mention "Best of The Worst", while it could fit in with its psych brothers, it packs a bit more. It bellows thick with a downtrodden moodiness that Dead Confederate can showcase with some of their slower songs. What pushes the track over the edge for me is the still searching attitudes of the guitar interludes. It gives a huge call back to Omar-Rodriguez Lopes' sexy stylings when he was really on during their first couple of records.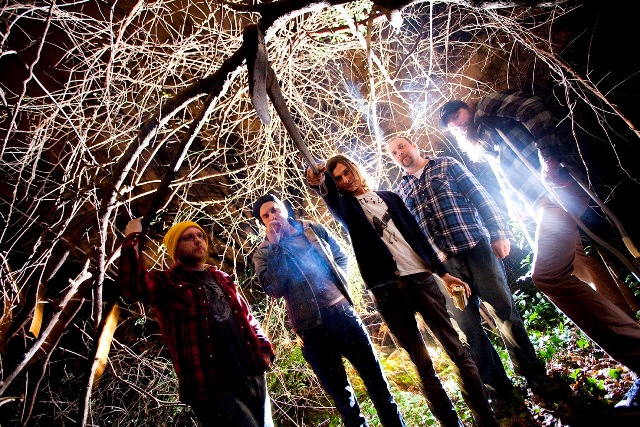 Let me expand on what I said in the beginning, Dead Confederate can be pinned with producing some similar sounds to My Morning Jacket or Band of Horses. They just decide to color their lines a bit bigger, darker, harder, and more everlasting then these acts choose to. If that sounds like your thing then In The Marrow might be a record you'll want to feel in your bones.
Key Tracks: "In The Marrow", "Best of the Worst", "Big City Life"
Artists With Similar Fire: Diamond Rugs / Deer Tick / The Whigs
Dead Confederate Website
Dead Confederate Facebook
-Reviewed by Christopher Tahy

Dead Confederate: Peyote People [Fire Note Review 2/15/13]
Latest posts by Christopher Tahy
(see all)