Todd Rundgren


State
Esoteric Recordings [2013]



Fire Note Says: The State of Todd Rundgren's Union of Pop and Art.
Album Review: Although Todd Rundgren stepped away from his band Nazz to begin his eventually successful solo career in 1970, in the 43 intervening years that lead up to this 23rd solo release, State, Rundgren has found the time for several side-careers. In addition to his classic, groundbreaking efforts like Something/Anything, A Wizard, A True Star, and Todd, Rundgren fronted the band Utopia, making 9 studio albums with them, some in the experimental prog-rock vein, then later in more conventional power pop/rock format.
As a producer, Rundgren has manned the board for transcendent artists like Patti Smith, XTC, and New York Dolls, made great pop/rock discs with The Tubes, Cheap Trick, Bourgeois Tagg, and The Pursuit of Happiness, and delivered mega-successful hits for the likes of Grand Funk Railroad and Meatloaf. Rundgren even composed the theme music for the kids' t.v. show, "Pee-Wee's Playhouse." But he hasn't stayed in the studio, Rundgren's live shows with Utopia and in solo settings have been major productions throughout the decades, recently delivering up to his fans concerts where he recreated albums like Todd and The Healing in their entirety, back to back. And Rundgren has been a favored touring partner, going out three times as part of the Ringo Starr All-Star Band tour, and in 2006 replacing Ric Ocasek at the center of The New Cars, with Elliot Easton and Greg Hawkes.
Over the years, Rundgren's approach to his own music has continued to evolve and he's brought a spirit of experimentation to even some of his past works and influences, displaying amazing versatility with albums like With a Twist… and Todd Rundgren's Johnson. The first revisited some of his greatest hits with an Caribbean island Bossa nova flare, and a tour that featured a Tiki Bar on stage, while the second was a full-on gritty blues tribute to some of the greats of the genre, an unexpected treat from the notorious techno-pop centered artist.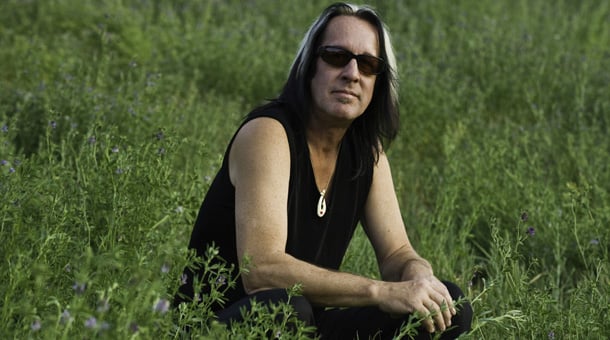 State, which like Something/Anything, finds Rundgren writing all the songs, playing all the instruments, doing all the voices (except one female singer on one song), and producing himself. The one problem with starting your career a couple decades ahead of your time, is that in your fifth decade things can sound overly retro. Take the fun groove of "Serious," it feels so familiar that you'll swear you sang along to it at one of Todd's concerts in the late 80s. Which is not to say that songs like "Collide-a-scope" and "Something From Nothing" sound predictable, rather they feel warmly familiar. Rundgren's uncanny way with a hook, always reliable, continues to please.
The one short-coming for this admitted Rundgrenophile, is the fact that Todd's synths dominate and his amazing way with a guitar solo rarely shines through as one would hope. Perhaps he's saving that for the live shows, but what one would give for a little "Black Maria" riffing up in this "State." There are a few nods to contemporary technology in "Ping Me" and "Angry Bird," but here – as he has before – he's managed to take silly ideas and make solid, fun songs out of them.
In the disc's opening 8 minute salvo, "Imagination," Rundgren suggests the hell of redundancy, a world where one's creative complacency keeps one trapped and lifeless. State finds Todd Rundgren at 65, continuing to strive to make relevant pop music in an artful and imaginative way.
Key Tracks: "Serious", "Ping Me", "Collide-a-scope"
Artists With Similar Fire: The Tubes / The Cars / Muse
Todd Rundgren Website
Todd Rundgren Facebook
Esoteric Recordings
-Reviewed by Brian Quincy Newcomb
Latest posts by Brian Q. Newcomb
(see all)