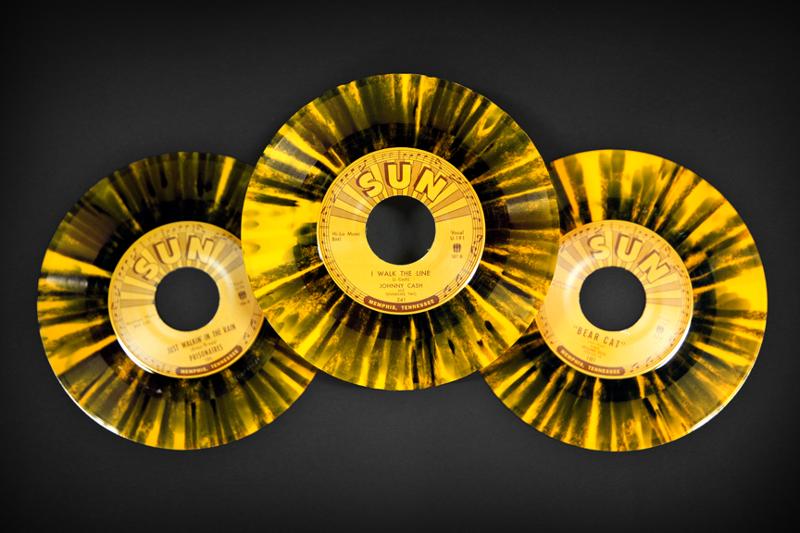 In 1952 a record label started in a bustling Tennessee town. They were fond of acoustic tile, storefronts, the color yellow, the owner producing recording sessions and music that generally moved people. Their output couldn't be pigeonholed to any one genre. They released everything….country, rock and roll, gospel, bluegrass, rockabilly, blues. If there's an American musical form that came to fruition in the early 20th century, bet your bottom dollar that some outstanding examples of it were recorded and released by Sun Records.
The initial three releases from this partnership highlight three disparate, yet engaging releases from the Sun catalog.
Originally released in 1953, "Bear Cat" by Rufus Thomas is as certifiable a primitive R'n'B smoker that's ever existed. Complete with the inimitable Joe Hill Louis on guitar, the future "Funky Chicken" Thomas gives his male-perspective answer record to Big Mama Thornton's "Hound Dog." In the process, the legal powers behind "Hound Dog" writers Jerry Leiber and Mike Stoller won a lawsuit claiming "Bear Cat" infringed on the duo's copyright. Ever since the writing credits have been Leiber/Stoller, but what has not changed is the unbeatable groove that moves the song. "Bear Cat" is as fresh today as it was when it was originally released sixty years ago.
Also released in 1953, "Just Walking in the Rain" by the Prisonaires was Sun's first certifiable hit. Penned Johnny Bragg and Robert Riley, both inmates at Tennessee State Prison, the solemn, haunting doo wop vibes were enough to garner the group, all incarcerated inmates, frequent day passes out of prison walls to perform across the state…including numerous engagements at the governor's mansion. The vocal prowess and good behavior on day trips would be enough for most group members to be pardoned by the governor. Elvis Presley often said the Prisonaires were his favorite vocal group and even covered "Just Walking in the Rain" on occasion. The proof is in the pudding on this one.


Released in 1956, "Get Rhythm" is an upbeat number by Johnny Cash with positive lyrics speaking of a happy shoe-shine boy. While the song is classic, inimitable Cash, it would quickly become overshadowed by its b-side, "I Walk the Line." A peculiar song that changes key between each verse and has no chorus, "I Walk the Line" would become the song Cash is best known for, a tale of pledged fidelity with lyrical undertones implying even deeper meaning. Rolling Stone magazine ranked the song at #30 in their 2004 list of the 500 greatest songs of all time.
Each release remains faithful to its original issue on Sun, replicating the classic logo and label design coupled with a striking Sun company sleeve that dutifully employs the rooster Sam Philips lamented losing as labels switched from 78's to 45's.
Pre-orders for all three initial release (available for purchase individually or as part of a bundle) begin today HERE, with an official release date of May 21st.
The limited edition versions of these singles will be an eye-catching yellow and black splatter configuration we're lovingly calling sun-ray vinyl. They will be limited to 150 copies per title. 100 copies of each of the limited versions will be sold from the Rolling Record store on May 28, 29, and 30th. The 28th we will sell the lmtd Johnny Cash single at Sun Records in Memphis TN, 29th will be Rufus Thomas in Louisville KY at Please & Thank You, and on the 30th we will sell The Prisonaires Sun Ray vinyl at Luna Records in Indianapolis. As always 50 copies of each limited edition record will go in random mail orders for the standard edition vinyl through the Third Man website.
Latest posts by Christopher Anthony
(see all)