Purson


The Circle And The Blue Door
Rise Above Records [2013]




Fire Note Says: Purson explores all that was good about late sixties/early seventies folk, prog and hard rock.
Album Review: It's not very often that we here at The Fire Note take notice of a heavy metal band. I personally find all the satanic imagery present in much of it more juvenile than offensive but, all the same, it's not what I generally find myself listening to. Purson's debut is, therefore, an exception – and an exceptional album. Though named after the great king of hell in demonology there is mercifully little in the way of Dark Lord mumbo jumbo in Purson's worldview. Instead we are confronted by tales of ghosts, carnivals, lost sailors and the English countryside. The pastoral nature of The Circle And The Blue Door is made immediately clear from the opener "Wake Up Sleepy Head." Acoustic guitar and flute call to mind early King Crimson – though one fronted by a female singer who is part Grace Slick, part Siouxsie Sioux. This is Rosalie Cunningham's band. She sings, writes, plays guitar and makes Purson way more interesting than some of their peers in the "occult rock" movement. Like-minded bands, such as Canada's Blood Ceremony, are combining vintage sounds with Wicca and an ear for psychedelia to great effect. But Cunningham is more than a mere player in a flash-in-the-pan genre. She has actual indie credibility that might not go down so well with the head-bangers. Her former band, Ipso Facto, found members joining up with The Big Pink, MIA and Florence and the Machine upon disbanding. She herself toured with Jack White as a guitarist for Willy Moon's band, then with These New Puritans as a keyboard player for the Hidden tour. On top of that was her appearance on Magazine's 2011 comeback album, No Thyself. Hardly the resume of a blood-letting Anton LaVey disciple.
After the short, mellow first track, things really heat up. "The Contract" has a riff straight out of the Hawkwind playbook. Fuzzed-out bass, acoustic guitar and mandolin lurk in the background while Cunningham's deep, powerful voice commands full attention. The next song (and album centerpiece) is "Spiderwood Farm." It's got a great Deep Purple Wurlitzer organ and a killer Pentagram-esqe riff offset by quiet verses that remind me of Pentagle or maybe even Fairport Convention. Pentagram meets Pentangle? Why not. That's pretty close. "Sailor's Wife's Lament" boasts a seaside 6/8 swing replete with mellotron while "Leaning On A Bear" re-imagines King Crimson's Lizard as a Gentle Giant tune played by a vaudeville act. Their prog side is strong here (and elsewhere) but they are never consumed by pretention. Their focus is squarely on writing good songs, playing them well is a bonus. A common tread among the bands most closely associated with occult rock is accessibility. The songs rock, yes. But they are melodic and Blue Door is a really good example of this.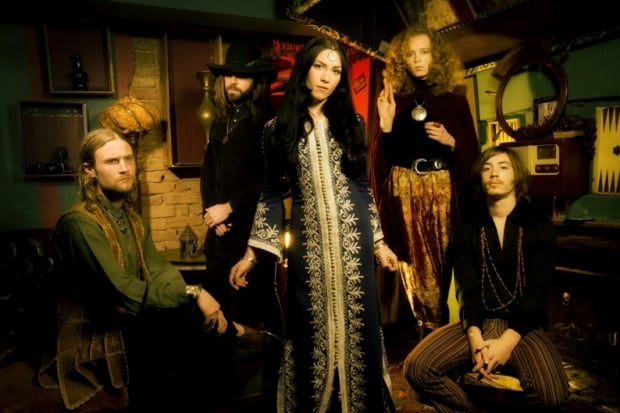 The main appeal of Purson is their ability to take some pretty obvious influences and keep them in the present moment. Case in point: "Mavericks And Mystics" bends Black Sabbath around Uriah Heep and still sounds vibrant and not at all the retro museum piece it would be in lesser hands. "Sapphire Ward" is a straight forward rocker in one sense. But a close inspection demonstrates that this is a band as familiar with Grand Funk as they are Merciful Fate. A lot of what makes Purson so good is the rhythm section of Barnaby Maddick (bass) and Jack Hobbs (drums.) While Cunningham, second guitarist George Hudson and keyboardist Samuel Shove could noodle too much at times, Maddick and Hobbs are a terrific backbone around which to do so. There is a whiff of authenticity in their approach to this era-specific music – with the bull's-eye being 1969-1971. And so Blue Door ends with two songs that prove they are more than capable of attacking that momentously important time in the development of all the music I love. The late Beatles psych of "Rocking Horse" and the Bowie-inflected "Tragic Catastrophe" both take their influences seriously enough but they understand the trap of period pieces. Although convincing as outright tribute, Cunningham has too much going for herself as a vocalist and a lyricist to get caught.
There may be some weird upswell in the popularity of melodic, accessible, vintage horror, carnie psych rock (really?) Uncle Acid and the Deadbeats, Ghost, Wolf People, Kadavar are all playing festivals with their 70's indebted, riff-driven doom metal. Though they are all good at what they do, none of them are fronted by a singer as talented and interesting as Rosalie Cunningham. She is definitely someone to watch and her band, Purson, is about as kick ass a band as I've heard in a long time. Granted, I am no expert in this area (having given up on metal when Iron Maiden discovered synthesizers) but my ears tell me that The Circle and the Blue Door is one of those records that transcend scene and genre and merely exist on their own merits as a very, very good album.
Key Tracks: "Spiderwood Farm", "Leaning On A Bear", "Sapphire Ward"
Artists With Similar Fire: Blood Ceremony / Deep Purple / Black Sabbath
Purson Facebook
Rise Above Records
-Reviewed by Scot Lade
Latest posts by Scot Lade
(see all)