The Shouting Matches


Grownass Man
Middle West Records [2013]



Fire Note Says: The Shouting Matches are loose and fun on their debut album.
Album Review: Many of you will be interested in The Shouting Matches because of its superstar member Justin Vernon. Yes, he of Bon Iver fame has made a blues-rock album with two pals Phil Cook and Brian Moen. The Shouting Matches started as a side project in 2006 and was re-instituted last year after the three members played together. It appears the three men enjoyed that so much they decided to release an album; Vernon has the cache to garner enough interest to make such a project possible.
Vernon carries the vocal duties on Grownass Man but there is no falsetto to be found on the album – it's of course odd to hear him sing in a more straightforward fashion. He earns a passing grade for the album but his vocals don't stand out in any significant way. There is a mix between ballads and full-out rockers on the album as well. "Mother, When?" has organ, pounding drums, and frenetic guitars. Vernon's voice growls but lacks the menace that would have added more depth to the song. My other two favorite tracks on the album ("Gallup, NM" and "New Theme") could pass for Bon Iver tracks to some extent. "Gallup, NM" even has the geographic theme in its title that Vernon often uses with his Bon Iver creations. This song marries the indie-pop aesthetic of Bon Iver with the looser blues-y stylings of The Shouting Matches. As a result this song validates the existence of the band if only to expand upon Vernon's soundscape.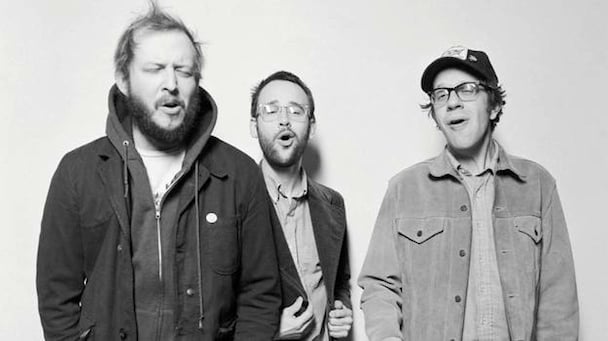 Is The Shouting Matches a vanity project? Some of the tracks are relatively weak while a few stand out; this LP may have worked better as an EP. I'm going to give Vernon the benefit of the doubt and assume that his work in The Shouting Matches is a palette cleanser that will ultimately lead to higher quality work in other genres. Hopefully with Bon Iver but I trust that his talent will find other ways to resonate, as they have with The Shouting Matches. Most of all this album may be Vernon's retort to his critics that he is too serious and too much an "artist." Vernon shows us that he can let loose and jam with his pals.
Key Tracks: "Mother, When?", "New Theme", "Gallup, NM"
Artists With Similar Fire: The Black Keys / The Black Crowes / Black Pistol Fire
The Shouting Matches Website
The Shouting Matches Facebook
-Reviewed by Matthew Heiner
Latest posts by Matthew Heiner
(see all)