Savages


Silence Yourself
Pop Noire / Matador Records [2013]



Fire Note Says: Savages release a debut that rekindles a different era of post-punk.
Album Review: London's Savages come to us with high anticipation and a huge amount of hype. That typically is a setup to be disappointed but in this case the female quartet's debut Silence Yourself is a fierce 38 minutes of post-punk that is dark, edgy and full of power.
It would be easy to see the album cover and read the short intro above and start thinking that Savages are a new modern Riot grrrl band. I don't want you to get that impression because the mindset needs to be Siouxsie and the Banshees not Sleater-Kinney. This dark, sometimes even goth, strong grove has helped build up Savages debut hype and Silence Yourself totally backs it up. The swirling of noise with the direct and calm voice of lead singer Jehnny Beth is an instant stand out for Savages. In a split second the band will just follow up her vocals with a wall of guitar that shreds your speakers and hits heavier than you would ever expect. On songs like "Shut Up" and "City's Full" you will get a hard guitar riff after another hard guitar riff that keeps you anticipating the next chord as much as the next lyric. Savages also can keep the intensity when Beth slows things down like the emotional outpouring in "Waiting for a Sign" that at one point dwindles all the sound down to one slow drum beat. Moments like these highlights why Savages are unique and worth your attention.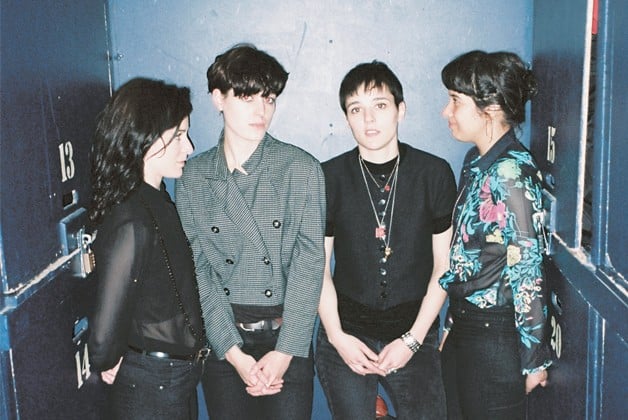 Silence Yourself sounds timeless to me but doesn't seem to fit in the scene today. This is not a bad thing because the album, and band, stand alone but it does dictate a particular mood for listening. Savages still have such a presence here that you respect every manic delivered lyric and reach for the volume knob each time you hear something different. This is a debut that will be talked about at the end of the year because it hits with such power that it ingrains itself into your head. It will also be interesting where Savages go from here because the album is so retro sounding that experimenting with their current style could bring greater things in the future. Regardless, Silence Yourself is a debut that most bands only dream of making and if you are into something different compared to the current state of "indie" rock – Savages will be the automatic fix you have been looking for!
Key Tracks: "Shut Up", "City's Full", "Husbands"
Artists With Similar Fire: Interpol / Gang of Four / Siouxsie and the Banshees
Savages Website
Savages Facebook
Matador Records
-Reviewed by Christopher Anthony
Latest posts by Christopher Anthony
(see all)