Steve Earle


The Low Highway
New West Records [2013]



Fire Note Says: Steve Earle continues to make good (music).
Album Review: On this 14th full-length album since his '86 debut, Guitar Town, Steve Earle has defied expectations of an early drug-fueled demise, only to deliver yet another vibrant, life informed collection of country and folk influenced music. Early on, Earle was viewed as a country music traditionalist, winning the dubious title of Country Artist of the Year from Rolling Stone Magazine in 1986. But Earle is best thought of as a folk artist, who experimented freely with rock, Celtic influences and eventually embraced some edgier sounds via the production techniques on discs like The Revolution Starts Now ('04) and Washington Square Serenade ('07).
Earle returned to a rootsier sound for his tribute album of songs by Townes Van Zandt (Townes, '09), the seminal songwriter, at around the same time he was appearing in the New Orleans-based drama Treme, portraying songwriter and street musician Harley Wyatt. "This City," which found Earle nominated for an Emmy award, was featured on the Treme soundtrack CD as well as Earle's T Bone Burnett-produced I'll Never Get Out of This World Alive ('11), which is also the name of his first novel.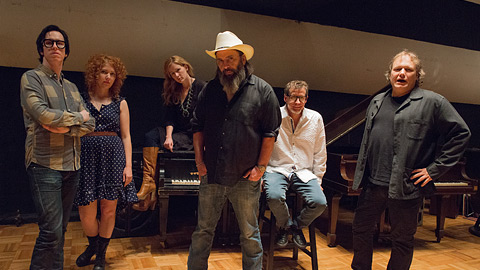 Earle is co-producing with Ray Kennedy on The Low Highway, with an ear to an accessible, earthy sound shaped by his folksy band of Dukes & Dutchesses. At least two songs point back to time spent in the Big Easy, "That All You Got?" and "After Mardi Gras," and are written with Lucia Micarelli who his character writes with in Treme. "Warren Hellman's Banjo" is a bit of a gospel stomper leaning on the titular instrument, which is suitably followed by "Down the Road, Pt. II," a fiddle-based romp featuring the great line: "Roll over Kerouac and tell Woody Guthrie the news."
The Low Highway finds Earle relating his usual stories of loser and loners, their destroyed dreams and undying prayers, whether it's the backwoods meth cooker in "Calico County," the vengeance seeking townie who "thinking of burning the Walmart down ('Burnin' It Down")," or singing the "21st Century Blues." A solid offering, The Low Highway continues Steve Earle's legacy of solid songwriting and authentic storytelling from the heartland.
Key Tracks: "The Low Highway", "Warren Hellman's Banjo", "21st Century Blues"
Artists With Similar Fire: Buddy Miller / Bob Dylan / Son Volt
Steve Earle Website
Steve Earle Facebook
New West Records
-Reviewed by Brian Quincy Newcomb
Latest posts by Brian Q. Newcomb
(see all)