Iggy And The Stooges


Ready To Die
Fat Possum Records [2013]



Fire Note Says: The album may be called Ready to Die, but the band is nowhere near death!
Album Review: Let me start this review by saying that I am one of the only people I know who really enjoyed The Stooges 2007 album, The Weirdness, and on top of that, I think that Iggy Pop's solo album Skull Ring, which was the first album to feature songs from the reunited Stooges, is brilliant, and holds a comfortable spot in my Iggy top ten album list.
If you're wondering why Ready to Die is being billed as Iggy And The Stooges and not just The Stooges, the reason is pretty simple. Lead guitarist James Williamson, who tore it up on the Iggy & The Stooges classic, Raw Power, is back in the band, and Ready to Die is more in line with that album than the rest of The Stooges catalog. The songs are leaner and meaner, the pace is faster, guitars slice and dice like a razorblade. Williamson helps to shape the songs in a different way than the late great Ron Ashton did. Williamson possesses a broader sonic palette to paint from, equally adept at punk, classic rock and blues, all of which are used to great effect on Ready to Die.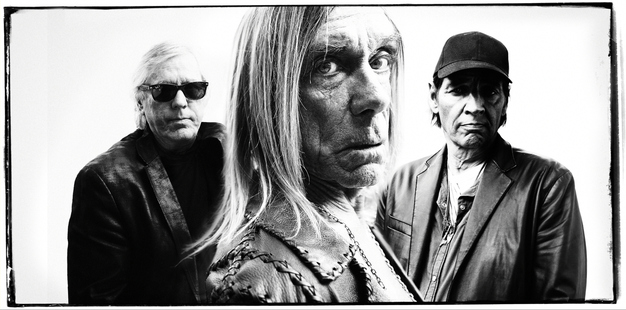 From the opening drum crack on "Burn" the song is full throttle sonic adrenaline! It whips up a punk fury with blistering guitar lines and a great vocal from Iggy. There is no other band in the world that sounds like Iggy & The Stooges on a track like this, they still have the magic. "Sex and Money" is as sleazy sounding as a song titled this should be. It features a nice dirty groove and some down and dirty horns. Musically, "Gun" sounds like a dead ringer for an outtake from the Raw Power sessions. I wish that Iggy's voice had been mixed a little bit lower, he overpowers the music a little bit on this one, but it's still a very cool track. Ready to Die also features several acoustic based tracks. "Unfriendly World" is a bluesier song which sounds world weary. Iggy employs a deeper, more emotive voice on this one that gives the song an added weight and is very effective. "The Departed" sounds to my ears like it has a duel meaning. On the one hand it could easily be a tribute to Ron Ashton, but it could just as easily be a eulogy to days past, and the fact that they are growing older. "DD's" is destined to be the most talked about track on the album. Yes it is definitely about the joy of large breasts, and it is a fittingly up-tempo number. Just as critics seemed to latch on to the lyric "My dick is turning into a tree" off of The Weirdness to show that Iggy's lyrics and songwriting are horrible, they will also probably point out the "I'm on my knees for those DD's" is equally horrible. I personally will argue, "are you seriously listening to a Stooges record looking for references to Shakespeare or something? The name of the band is The Stooges for crying out loud. That should say it all!
All in all Ready to Die is a really good record. I have some minor issues with the mixing on it. I do wish Iggy was brought down in the mix on the record, and the band was louder on some of it, but the irony of it is, that the last Iggy & The Stooges record was one of the worst sounding production jobs in the history of the Rock era. It was so bad, that Iggy went back and remixed it for a reissue in 1997. Of course that time, he went as far as he could in the opposite direction, seemingly turning everything up to ten! Perhaps this version of the band is destined to never sound "perfect" on record!
Key Tracks: "Burn", "Sex and Money", "DD's"
Artists With Similar Fire: MC5 / Mudhoney / New York Dolls
Iggy & The Stooges Website
Iggy & The Stooges Facebook
Fat Possum Records
-Reviewed by Kevin Poindexter
Latest posts by Kevin Poindexter
(see all)