The National Rifle


Almost Endless
Self-Released [2013]



Fire Note Says: Philly four-piece gives a new take on tired 80's revivalism.
Album Review: It's almost a foregone conclusion that any new indie record will be heavily indebted to either the 60's or the 80's. Its pick your poison – Beach Boys or Pet Shop Boys. The trick is to expand upon the influences and create something new. And so it is with The National Rifle's debut full-length, Almost Endless. It has staked out the ever popular New Wave era as its prey and Morrissey may be the most obvious target. After four EP's it would seem an opportune time to drop an actual album and the time spent honing their craft paid off. Although keyboard player Lynna Stancato contributes some backing vocals and one stunning turn at lead (the gorgeous single "Glass Line") this is singer/songwriter/guitarist Hugh Moretta's band. His is a plaintive, casual croon giving way to a set of mostly vague lyrics that are well-served by repetition (e.g. – "Don't look around x4 /Can't understand x4 /I'll wait around x4 /Nowhere to go x4".) The lack of specificity helps create a sense of longing and distance. This is a wise move as he is hardly blessed with the best pipes in the biz. He does, however, use them to great effect.
The album opens on a very high note with "Coke Beat." New Order-like synths are met with frenzied drums from stickman Buddy Mazzenga. His assault is The National Rifle's secret weapon. And it is what truly distinguishes them from hundreds of like-minded bands. At its core, Almost Endless is a Rock album. Angular guitars come in and provide excellent and much-needed counterpoint to the chorusless song. The next tune, "Young In The Future," continues the non-binary song structure. With the powerful drumming and modern form, it is the best song here. Typical of the record's mood, Moretta pretty much tells us everything we need to know: "Stay calm/That's life/Don't care/Too high." Another stand-out is the strange and effective title track. It starts with a Rick Springfield guitar while Moretta tries out his falsetto. Somewhere in there it sounds like the keyboard stabs from Eddy Grant's 1982 hit "Electric Avenue" have been grafted into the mix. Truly weird and yet very catchy.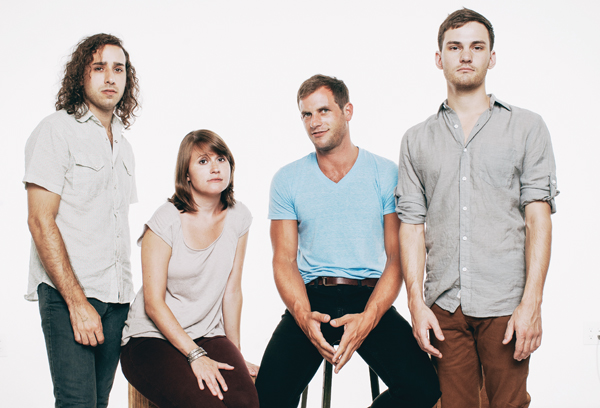 One of the few misses on Almost Endless comes up next in the Gary Numan aping "So Real." It's the one time there is just too literal an interpretation and it falls flat as a result. Thing get back on track with the upbeat "Visuals." Think Duran Duran with a really, really good drummer and you'd be close. "Street Burn" churns like an old That Petrol Emotion song and trust me, that's no bad thing! Snarling guitars with a great beat. Yes, sir. The proceedings come to a close with another New Order sounding track, "Night High." At a whopping 4:12 it is the longest track and the most overtly nocturnal. The repeated synth phrases build to a very satisfying conclusion to a very good album. With nine songs coming in at a hair over a half hour, brevity may be my only complaint (besides the unfortunate "So Real.") This is a band with a different swagger, with a rock 'n roll heart and with the chops to pull it all off.
Key Tracks: "Coke Beat", "Young In The Future", "Visuals"
Artists With Similar Fire: The Smiths / New Order / That Petrol Emotion
The National Rifle Website
The National Rifle Facebook
-Reviewed by Scot Lade
Latest posts by Scot Lade
(see all)