Pretty & Nice


Golden Rules For Golden People
Equal Vision Records [2013]



Fire Note Says: Boston's Pretty & Nice resurface with an excellent third LP!
Album Review: Back in 2008, Pretty & Nice seemed to be on the indie circuit rise as their sophomore record Get Young was receiving positive praise (#50 in our Top 50) and already on a hip label in Sub Pop imprint Hardly Art. Then they disappeared minus an ep and single here and there. Well that is until now as Golden Rules For Golden People is their third full length and possibly their best record to date with its orchestrated high energy and power-pop coating.
I can't tell you how refreshing it is to hear Pretty & Nice at the top of their game while expanding the band's musical outpouring. It would have been easy for Golden Rules For Golden People to come off more refined and let Pretty & Nice say "look at how mature we have become" but instead the trio takes a ton of risks with complex song structures, added instruments in the arsenal and plenty higher octane tempos. First track, "Stallion & Mare" is a great re-introduction to Pretty & Nice as it starts with a little lo-fi harmonizing before the guitar steers things more forward and the vocals come in loud and clear. But then after a minute going down this road and thinking you are confident that you have this one figured out, Pretty & Nice totally launch into this bigger muscular sound that is full instruments to the wall. It is a moment in the track that stands out before the track switches into a third act with its up and downs which completely sold me on the song and honestly got me right back onboard with Pretty & Nice.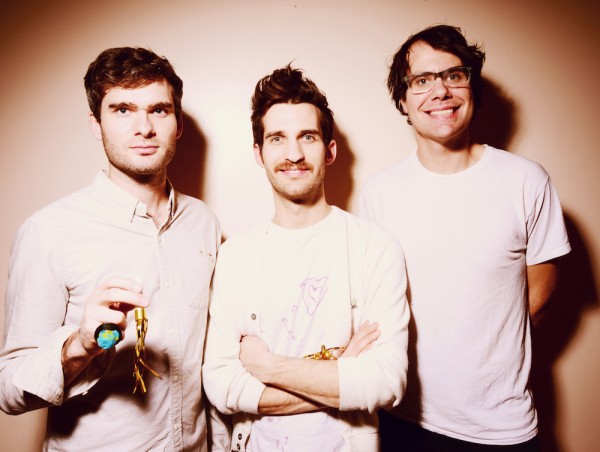 This swagger and style continues on Golden Rules For Golden People but the way Pretty & Nice uses a 70's new wave and speedy surf guitar style raises the bar like the high quality guitar work on "Q_Q" that sounds like Supergrass vocals meeting Strokes guitar play while going out with the older classic Devo. I know that paints an interesting picture but that is exactly what you get from this indie forward record from Pretty & Nice. At other times the group has a real Elephant 6 vibe much like The Apples In Stereo but with a more lush power pop conscious from the brain of A.C. Newman (New Pornographers) while at other times coming off like a young Elvis Costello.
The rest of Golden Rules For Golden People continues this upbeat fresh vibe as "Yonkers" has a big energy surcharge right from its opening drums, guitar and vocals and is another example deeper in the record of how Pretty & Nice have expanded their sound without changing their core. That component makes this outing as infectious as their 2008 record and with a thicker complexity running throughout Golden Rules For Golden People the album is elevated to the top of their catalog. The bottom line is that if you like fun, somewhat quirky, and catchy indie rock, Pretty & Nice have just made a record for you that should entertain spin after spin!
Key Tracks: "Stallion & Mare" / "Q_Q" / "Yonkers"
Artists With Similar Fire: A.C. Newman / Self / The Apples In Stereo
Pretty & Nice Website
Pretty & Nice Facebook
Equal Vision Records
-Reviewed by Christopher Anthony
Latest posts by Christopher Anthony
(see all)