Satellite


Calling Birds
Descendant Records [2013]



Fire Note Says: Satellite targets prime time TV with debut album Calling Birds.
Album Review: Me: Hey, there's a new album to listen to: Satelitte's Calling Birds. I've never heard of them before. (Starts listening).
Other Me: This sounds a lot like Snow Patrol. I used to like Snow Patrol. Maybe I still kinda like them, but I don't go shouting about it.
Me: Yeah, thanks to Grey's Anatomy. "Chasing Cars" is a dead ringer for "Say The Words," the album's first track. Should I mention Grey's Anatomy in my review? Would that be too emasculating? By the way, I really like that new Dr. Pepper 10 commercial. (I think I saved it. That was close).
Other Me: You worry too much. Just appreciate the music for what it is. Pop-alternative rock that seemed to be made for Grey's Anatomy.
Me: That sounds like a backhanded compliment to me. I'm so conflicted!
Other Me: Just who is Satellite?
Me: A four-piece alternative (read: pop-alternative) from Nashville and Los Angeles. Members include Steve McMorran (vocals and guitar), Erik Kertes (bass and piano), Josh Dunahoo (guitar), and Mitch Allan (guitar and backing vocals). Calling Birds is their first full-length album.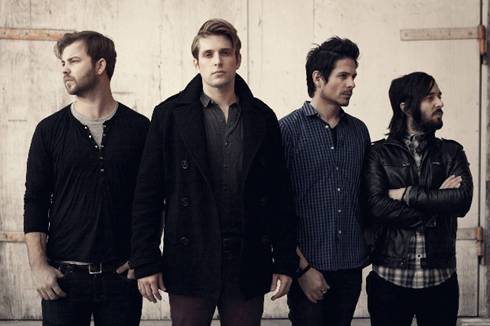 Other Me: You are full of information.
Me: Yep. Getting deeper into the album, I feel like I've heard this before. I'm pretty sure that "Turning On My Own" was playing at the end of a Friday Night Lights episode.
Other Me: That's impossible. That show ended a few years ago.
Me: I'm speaking figuratively. It's a solid song with a swelling chorus, interesting twangy guitar. It was made for an arena or the last five minutes of a network drama.
Other Me: Definitely not a show on AMC or FX though. Maybe as an ironic twist on It's Always Sunny…
Me: Or a dud of an episode of Sons of Anarchy. It's hard to take some of the album seriously with songs named "Saving Us Tonight" and "God Save The Dream." Delilah is going to stay in business because of these guys.
Other Me: Low blow, man. This album is well-crafted and tight. "Brooklyn" is well-played and showcases McMorran's vocal abilities. Don't hate. It's a lot better than anything you could ever create.
Me: You're right. While Calling Birds does have its limitations (tired tropes, bursting with earnestness) it is catchy and could catch on with a wide audience given a chance. I don't know if I will keep listening to it for much longer, but I can see myself firing it up every few months or so.
Key Tracks: "Say The Words", "Turning On My Own"," "Brooklyn"
Artists With Similar Fire: Snow Patrol / OneRepublic / Keane
Satellite Website
Satellite Facebook
-Reviewed by Matthew Heiner
Latest posts by Matthew Heiner
(see all)