Art Brut


Top Of The Pops
The End Records [2013]



Fire Note Says: Art Brut shows us why you should care on new compilation Top Of The Pops.
Album Review: When Art Brut hit the scene back in 2005 they were a breath of fresh air from the UK that possessed a powerful venom from lead vocalist Eddie Argos which made everyone take notice. Their debut, Bang Bang Rock & Roll was full of cocky and sometimes humorous post-punk that I think was always highlighted in "Formed A Band" when Argos states "and yes this is my singing voice" in his spoken tune delivery. The entire song is a stylistic irony that is full of swagger and easily created a fan base. Now the problem with having such a stellar debut is that trying to catch your own tail always proves to be difficult. Many bands never achieve it and Art Brut has still been trying for the last eight years.
Well Top Of The Pops is a chronicle of that journey as the first disc is a seventeen track, in order, review of Art Brut's material with the addition of two new songs. When you put all of these songs in order you can really hear the progression of the group as they moved from the raw energy of their debut to the musical expansion of 2009's Art Brut Vs. Satan which was produced by Pixies frontman Frank Black. All of the tracks have this cocky pissed off feeling but you can definitely hear more passion in the earlier material. Overall, the diminishing returns are minimal because I am a fan of all four of their full lengths and the highlights are all here. I do think Top Of The Pops would have flowed better if the tracklisting was shuffled because the diversity would have told a better story.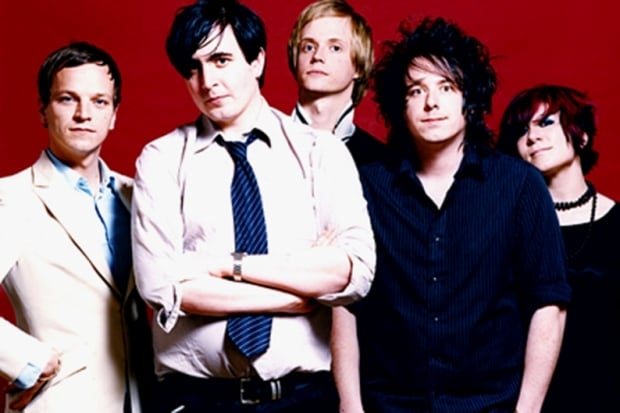 The new songs here carry the same torch as "Arizona Bay" is a big rocking track that directly addresses the bands popularity decline while "We Make Pop Music" is a fitting closer as Argos says it all with "we make pop music, for people that don't like people." Both songs have a big muscular guitar and full band sound. The second disc gives you twenty tracks that include B-sides, covers and live recordings. For completest this is a nice gathering of material although there is nothing here that is a must. Overall Top Of The Pops is a solid collection of Art Brut's work and could easily be a starting point for somebody new to the Art Brut party. I am not sure Art Brut will ever match their 2005 debut but as this compilation shows – there seems to still be plenty left in the tank.
Key Tracks: "Formed A Band", "Direct Hit", "These Animal Menswear"
Artists With Similar Fire: Los Campesinos! / Gang Of Four / Clinic
Art Brut Website
Art Brut Facebook
The End Records
-Reviewed by Christopher Anthony
Latest posts by Christopher Anthony
(see all)