California X


California X
Don Giovanni Records [2013]



Fire Note Says: California X's debut brings a garage rock meets post punk sound that gets better with every spin.
Album Review: California X makes their debut with this eponymous LP. The punk trio from Amherst, MA consists of Lemmy Gurtowsky (guitar and vocals), Dan Jones (bass), and Cole "Cool" Lanier (drums). California X has eight tracks and has a garage punk sound to it that instantly reminded me of Japandroids' Celebration Rock. That album was one of my favorites of last year and comparing the two put California X at a disadvantage. However, I had the chance to dive deep into California X and with repeated listens (about 10 at this point) the album strengthens with each spin.
The self-titled album kicks off with "Sucker." A six-minute track that perhaps lasts too long it at least sets the tone for the rest of the LP. With time I appreciated the statement that the trio was making with this opus – they're not going to come in and out quickly, but loudly and forcefully make their presence felt. That requires a degree of confidence that makes the rest of the album stronger. My favorite track "Curse of the Nightmare" immediately followed – if my hair were long enough it would have been swirling around my head. Gurtowsky repeats "It's my life/It's okay" throughout and the urgency of youth is felt in all of the song's three minutes. It doesn't let up until the final reverb.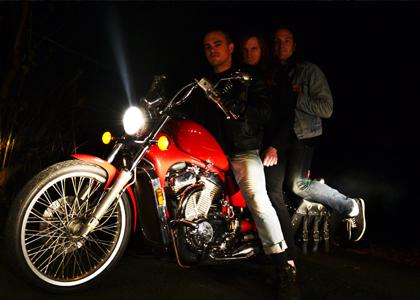 Other standouts include "Pond Rot" and "Lemmy's World." "Pond Rot" has a grungey sound that reminded me of Nirvana – the track's title matches the tone it sets perfectly. We've all wanted a "pond to rot in" at some point in time for whatever reason and Gurtowsky conveys that self-loathing swagger with ease. "Lemmy's World" is a bit more upbeat but deals with loss (of a "phone," of a "feeling in my ears," of "my way"). This does not seem all too significant, but any loss is pressing when played in such a way. Many of these same themes were ever-present in Celebration Rock and they were executed better. It seems there is potential here with California X to have the same sophomore success that Japandroids had. At least I have a new album that I can run to from start to finish.
Key Tracks: "Curse of the Nightmare", "Pond Rot", "Lemmy's World"
Artists With Similar Fire: Dinosaur Jr. / Japandroids / The White Stripes
California X Website
California X Facebook
Don Giovanni Records
-Reviewed by Matthew Heiner
Latest posts by Matthew Heiner
(see all)