Cold Warps


S/T | Endless Bummer
Noyse Records [2013]




Fire Note Says: Cold Warps first cassettes create their solid debut LP.
Album Review: What I said above is a perfect description of this album-using song titles might I add. Canadian lo-fi, buzz garage punks Cold Warps come to us all the way Halifax. After being picked up by Noyse Records, Cold Warps with their first vinyl pressing shows us what a new breed of pop punk can sound like. This combination album features there self-titled EP as well as their follow up Endless Bummer-originally only on separate cassettes. Cold Warps give us plenty of reasons to pay attention here: timeless production, almighty hooks, stupid simple brilliance, and an underlying and unrelenting energy that feeds everything into the pleasure centers of your brain-this is one catchy earwig.
Nothing here is spared, Cold Wraps choke the life out of everything: guitar chords, vocals, the raw-sugar harmonies, sarcasm, and drums. "Hang Up On You" is a muzzle flash of unruly intensity, and only better comes of it. From The Ramones styled guitars to the bass line beginning there is no looking back. "I Got Opinions, Dude" with click clack stick count beats you over the head. It's the guitar riff that really ties the track together. Its quirky skitter is a wrestling match between player and strings. One of my favorite tracks, "Science Fiction" might as well be a Mean Jeans song and is an audible joyride from beginning to end. "Send my clone out to die/Got black stuff coming out my eyes" is just a bit of a taste of what to expect. "Phone Message" split's the albums in two and is just that, ridiculous phone messages.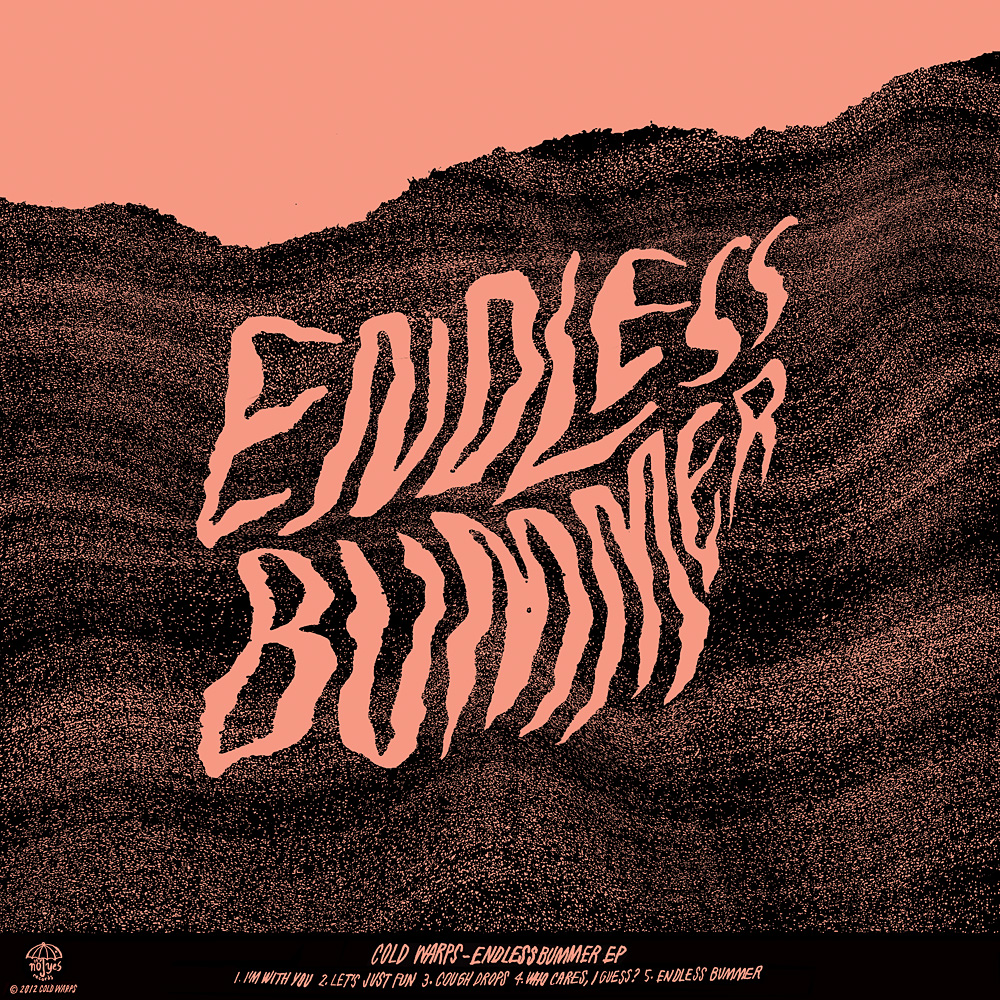 Now it's Endless Bummers' turn to pick up where the self-titled left off. Here Cold Warps up the production value and shed pieces of their lo-fi sound. While I do favor the self-title tracks a bit more Endless Bummer goes toward a more pop punk vibe while keeping things equally gritty and solid. "Cough Drops" is exactly what you expect, a song about cough drops. A really cool surf/beach comber vibe comes forth from bass and guitar interplay- It almost reaches Traditional Fools like levels. "Who Cares, I Guess" is a super charged middle finger ode to life from the perspective of a teenager. "Don't Haunt Me, OK?" blends pogo charged riffs with poppy hooks and a "Don't haunt me I'm afraid of the dead," sing along. Another sing along to round things out, "Stuck On an Island" bounces the notes around inside your head. Mix that with a well balance follow through of bridges and choruses and you have a hell of a track to go out on.
I feel that my descriptions haven't done this record enough justice. I can only imagine that these songs have to be just as fun to play as they are to listen to. With their Cold Warps/Endless Bummer release Cold Wraps have created something special. These are tracks that need to be blared out of car windows. Each track a precariously packed powder keg exploding with its own special voice, sound, and energy. All I ask is that you do yourself a favor and give these guys a listen. I promise that you'll be as enthralled and engaged with every spin. I know we haven't seen the last of these guys!
Key Tracks: "Hole In My Head", "Science Fiction", Don't Haunt Me, OK?"
Artists With Similar Fire: Mean Jeans / Unnatural Helpers / The Marked Men
Cold Warps Website
Cold Warps Facebook
Noyse Records
-Reviewed by Christopher Tahy
Latest posts by Christopher Tahy
(see all)