Fairmont


The Grand And Grandiose
Mint 400 Records [2013]



Fire Note Says: Fairmont deliver one of their most engaging records to date!
Album Review: Clifton, New Jersey's Fairmont is one of the hardest working indie pop bands out there that nobody has heard of. That is hard to believe as The Grand And Grandiose represents the groups seventh full length album and around 15th or 16th release total. You might think Fairmont would have a bigger following by now but so goes the hit and miss luck of being in an indie band.
I am not sure The Grand And Grandiose will change Fairmont's popularity status but it does represent one of their most confident releases to date. Some of this comes from perspective as singer Neil Sabatino stated that the record was written during one of the worst times of his personal life while their drummer Andy Applegate almost died on two different occasions due to chronic health problems. That troubling mood doesn't eclipse Grand and Grandiose but it does keep the songs more direct like on "The Sun Shines Only For Me" which finds Sabatino singing that "yesterday is ancient history" with a very relieved passion while "Hallelujah" comes out of the gate rocking the guitar as he keeps the lyrics real and delivers "can't be all that bad…sometimes it is" several times until you get it.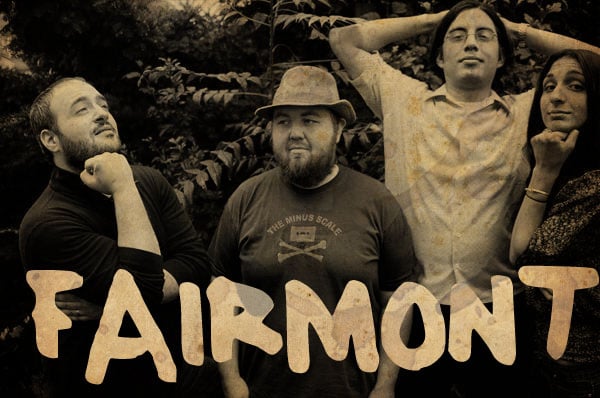 Fairmont's jangly indie rock is consistent on Grand And Grandiose but one of the big differences is the reduction of the mirrored female vocals from Sam Carradori. This companion singing has been a Fairmont staple for some time but on Grand And Grandiose she takes more of a back seat vocally. This changes the focus to Neil's delivery and on this more personal record he nails it as it feels right. The album also has a stronger induced guitar presence that is more straightforward and gives the songs proper emphasis at the correct moments. Right down to the mid tempo finale, "We Brought This On Ourselves", Fairmont gives 100% that translates into solid replays. Even as the last track fades to the sounds of a radio dial being switched, Sabatino's words "we're going to have a good time anyway" sticks with you and highlights Fairmont pushing through tough times on this record which you totally believe and can totally get behind!
Key Tracks: "Alone You Stand", "Black Heart", "We Brought This On Ourselves"
Artists With Similar Fire: The Wrens / Eels / Margot & The Nuclear So And So's
Fairmont Website
Fairmont Facebook
Mint 400 Records
-Reviewed by Christopher Anthony
Latest posts by Christopher Anthony
(see all)