The Black Angels


Indigo Meadow
Blue Horizon [2013]



Fire Note Says: The Black Angels play it straight with Indigo Meadow.
Album Review: It is quite weird but after accidentally seeing The Black Angels at Bonnaroo in 2007 I was hooked. This is a good thing I found out later because The Black Angels are indeed a really cool band. Their stunning 2006 debut Passover had all the intensity, fire, and wickedness of a napalm burst. The follow up, 2008's Directions to see a Ghost I consider a misstep as it seemed to lack what made their first record so tight. Phosphene Dream (2010) raged furious like the battle of Hamburger Hill-a step in the right direction. The Texan psych rockers, The Black Angels now drop on us their 4th full length – Indigo Meadow.
Indigo Meadow had me really excited as I'm always looking for a progression to The Black Angels sound. Sadly I have to say that's not here. Instead of going towards and evolving their Velvet Underground/13th Floor Elevator sound into something grander and fuzzier. They embrace a more rock n roll stance, it seems they might have tried to steal some of The Doors or The Yardbirds mojo only to misuse it in the end (Doors pun "The End"). Also, I don't expect poetry when it comes to lyrics but some of them come across as cheesy. "Evil Things" states "The was then when we where both people/Doing people thing like collecting dreams" there is a bit of justification in the song later as they switch out words. But, after listening to it again and again it comes off as hokey. "Don't Play With Guns", the first track released is a straight forward social commentary that falls a bit flat. "Holland" shows a bit more of an interesting side with dark Doors-esque delivery and a Black Mountain organ creep. "The Day" has a bit of a bounce to it but it's still your typical 60's smattered sunshine garage rocker.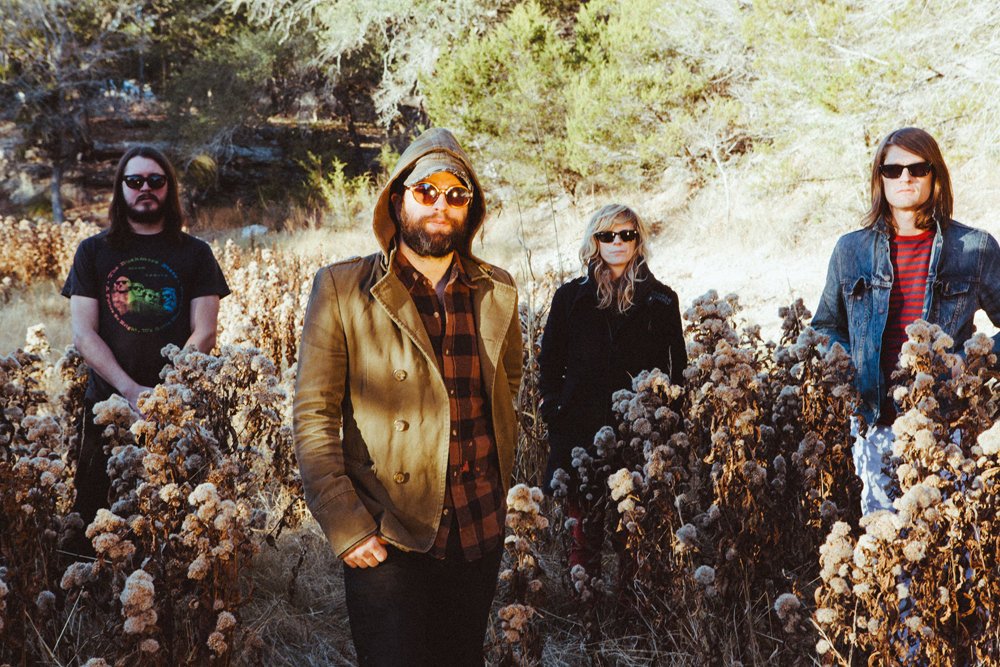 Some positive aspects though, "Broken Soldier" takes on wartime an societal reclamation on with the lyrics "It's hard to kill when you don't know whose side you're on"-it stuck with me. "I Hear Colors (Chromaesthesia) comes through as an acid drip in sound and lyrics. It goes for faint call back to fellow Austin rockers 13th Floor Elevators with a "Paint It Black" hum to end out on. "Black isn't Black" takes a play with subtle groove and counters that with a dark churn that sputters the album to an end.
When I think The Black Angels, I think Apocalypse Now drug induced tribal freak outs, riled counter cultures, and a slowly spun tale that tells itself. Indigo Meadow either takes this too far or doesn't tease the notions at all. Ultimately its principal down fall seems to come from the fact that The Black Angels have become too comfortable with themselves and with spin after spin your start to hear that more and more.
Key Tracks: "Holland", "I Hear Colors (Chromaesthesia)", "Broken Soldier"
Artists With Similar Fire: Black Mountain / The Warlocks / Holy Wave
The Black Angels Website
The Black Angels Facebook
-Reviewed by Christopher Tahy
Latest posts by Christopher Tahy
(see all)