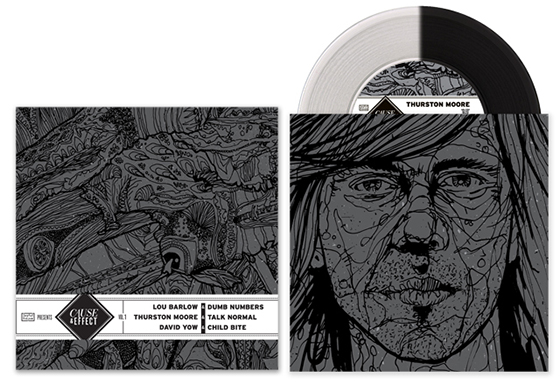 Joyful Noise Recordings is releasing, "Cause & Effect" that features three separate split 7″ records, which each adhere to an overarching theme: an influential, historically-significant solo musician on Side A, and the modern result of that musical influence on Side B.
The first of an annual volume, "Cause & Effect Vol. 1" features new unreleased recordings from Lou Barlow (Sebadoh, Dinosaur Jr., Folk Implosion), Thurston Moore (Sonic Youth), and David Yow (The Jesus Lizard), coupled with the current, fully-formed musical projects Dumb Numbers, Talk Normal, and Child Bite. Each Side B track corresponds to the musical trajectory set in motion by the former. Cause (side a) and Effect (side b).
All three 7″s are sold together in one super elaborate package, featuring new amazing artwork (and sketches of each band) by Shawn K Knight. This release is strictly limited to 2000 hand-numbered copies on split color vinyl. The first 300 copies are pressed on silver/clear split color vinyl, and are available exclusively to VIP Members. The remaining copies (#'s 301-2000) are pressed on black/clear split color vinyl.
You can find one and sign up to be a VIP HERE.
Latest posts by Christopher Anthony
(see all)