Wire


Change Becomes Us
Pinkflag [2013]



Fire Note Says: Wire looks back to their past to create an album that ranks among their finest.
Album Review: Change Becomes Us, is the 4th full length from legendary art punks Wire since their return in 2000, and it is quite possibly the best of their post reunion lps. Send was a punishing listen, containing highlights from their Read and Burn series of eps, as well as 4 tracks not on those eps. It served as a sort of "best of" from that era. It was loud and aggressive, and about as subtle as a hammer. Object 47 was a bit more nuanced, containing just as many up-tempo and aggressive songs, but mixing in some dance rhythms. I don't think anyone would actually call it a dance record, but it definitely had some soul. 2011's Red Barked Tree called to mind classic era Wire, more so than the other two albums. It was also one of the highlights of their illustrious 35 year career. With Change Becomes Us, Wire again looks back to the classic 1979-1980 era of the band. Only this time there's a twist, the band decided to rework and finish some tracks from that era, songs that had been scrapped and tossed on the junk heap, and songs that had been performed live during that era, but never made it to the recording studio. The results are quite impressive. The album sounds like both a logical extension of Red Barked Tree and 154, the legendary final album before the original lineup fractured.
The album is alternately heavy and moody, pummeling and experimental, aggressive and thoughtful, all trademark elements of Wire. The opening track, "Doubles & Trebles", proves that there is indeed joy in repetition. The simple guitar line repeats multiple times before the drums finally kick in, then the heavily distorted guitar continues to attack your brain. The vocal is classic Wire all the way, calling to mind any number of classics off of Chairs Missing. "Adore Your Island" features crashing drums and guitars juxtaposed against a soft/loud/soft dreamlike vocal. It's quite stunning. "Magic Bullet" could have been lifted straight off of side two of 154. It's experimental pop, with a clean guitar line, synths and another remarkable vocal. The record has some abrasive edges as well; "Stealth of a Stork" is flat out punk rock, all distorted guitars and a jackhammer beat.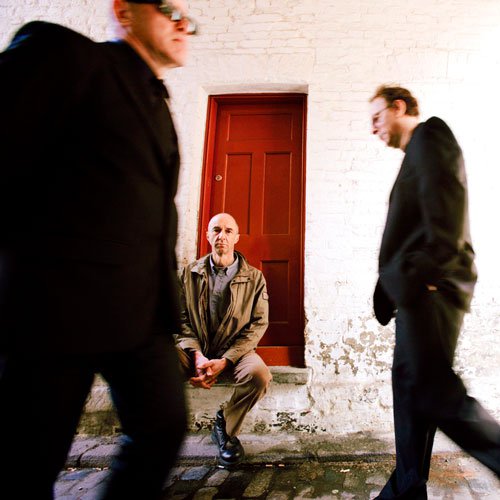 One can't help but wonder what Change Becomes Us would have sounded like if it had come out in 1980 or '81. I suspect it would have been extremely well received and would rank just as high as the original trio of albums that would have immediately preceded it, Pink Flag, Chairs Missing, and 154. As it stands now, it is definitely the best of the 4 excellent post reunion records, and ranks just a hair below the original trinity. This is an excellent record from a legendary band. It is encouraging to see a band that has been in the game as long as Wire has, still push themselves creatively, and to still remain on the cutting edge.
Key Tracks: "Adore Your Island", "Doubles & Trebles", "Magic Bullet"
Artists With Similar Fire: The Fall / Pere Ubu / Sonic Youth
Wire Website
Wire Facebook
-Reviewed by Kevin Poindexter
Latest posts by Kevin Poindexter
(see all)