Daughter


If You Leave
4AD Records [2013]



Fire Note Says: Daughter's debut album is a quiet, damaged, three hankie affair.
Album Review: Some music conjures up a strong sense of color or hue – the dark black of Swans, the Technicolor of Animal Collective, the sepia cast sounds of Beach House or the bright neons emitting from Karmin. On the debut album from London's Daughter they very effectively convey an overwhelming vision of grey. Originally conceived as a solo act by singer/songwriter Elena Tonra, she wisely brought guitarist Igor Haefeli and drummer Remi Aguilella on board to round things out. After a couple well-received EP's and a late night appearance on David Letterman they scored a deal with the foremost merchant of depressing music around: 4AD. Some things were just meant to be.
Rarely does a record come along that has such a single-minded purpose. To this end Daughter is a success. So single-mined that every song has a single word title (as on their EP's) However it is a difficult listen. the monochromatic themes of lost love, regret and sorrow are matched by the band's unwillingness to allow any sunlight in. This is atmospheric folk music with multi-tracked, effects-ladened guitars. They swirl from all directions, leaving the listener off-balance. This gives Tonra's oppressive lyrics a suitable background. The drums are way back in the mix and it takes four tracks before one can hear a snare hit. Rather we get a tom-heavy, almost tribal percussion complete with lots of reverb and rim shots.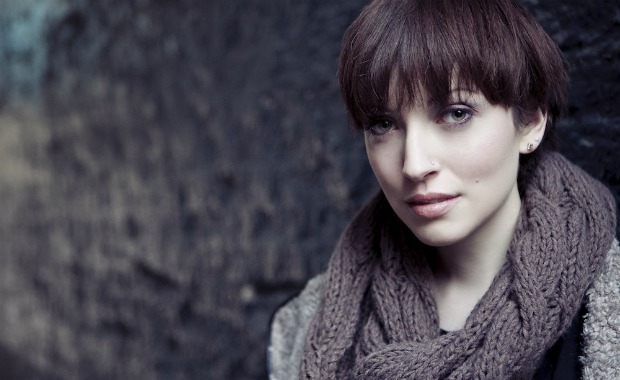 It doesn't take long for the mood to set in. The first song is appropriately named "Winter" and it sounds exactly so. "Drifting apart like two sheets of ice, my love/Frozen hearts growing colder, with time." So begins Tonra's descent into some very dark places. The next song, "Smother," might sound familiar to fans of The Vampire Diaries TV show as it was used this past season during an episode. In it she adds self-depreciation to her repertoire: "In the darkness I will meet my makers/And they will all agree that I'm a suffocator." After that comes a holdover from their last EP and the song performed on Letterman last year, "Youth." It is the best entry point into Daughter's world. It is also their best song by some distance. The gently picked guitar weaves through quite a few dynamic shifts. The song's true power, though, comes (unsurprisingly) from some brutal words: "If you're still breathing, you're the lucky ones/Cuz most of us are heaving through corrupted lungs." And later: "I've lost it all, I'm just a silhouette/I'm a lifeless face that you'll soon forget." Then, just in case you're not sure where she's coming from: "Setting fire to our insides for fun." Check, please!
Tonra is not a great singer but her British accent is alluring and her melodies are sublime. But all this minor key melancholy really weighs too heavy. The only time Daughter leaves it behind is on "Human" which begins with: "Woken up like an animal/Teeth ready for sinking." It's almost uptempo with a bouncy acoustic guitar playing against a kinda steady rock beat. It's a great counter-balance to the rest of the album. A few more like that and I'd be loving this record. As it stands, Daughter is a painful listen. Worthwhile but ultimately a little too wrapped in grey.
Key Tracks: "Smother", "Youth", "Human"
Artists With Similar Fire: Bat For Lashes / Anna Calvi / The xx
Daughter Website
Daughter Facebook
4AD Records
-Reviewed by Scot Lade
Latest posts by Scot Lade
(see all)