Harper Simon


Division Street
Play It Again Sam Records [2013]



Fire Note Says: Harper Simon plugs in on his sophomore effort Division Street.
Album Review: I can't imagine how hard it is to be the son of legend Paul Simon. If I were Harper it probably would have been easy to create a metal or punk band just so there would never be a comparison. Now it is not his fault he has his Dad's vocal talent and let's be honest, anything but the indie pop that he creates on his sophomore album, Division Street, would be a giant waste of his given skill set. On his 2009 self-titled debut, Harper took a much more indie folk route and kept things toned down which matches his soft vocal delivery. This combination was very Elliott Smith like and made critics drool over its sweetness. Now I will admit that his debut album is great but I feel that Division Street probably shows off the true Harper Simon and it is a great indie pop ride.
Division Street is more driven by electric guitars and mostly leaves the folk found on his debut in the dust. For some, this will be a huge injustice as Harper literally tore up the template and made a rock n roll record that he would want to hear. Of course this is a huge risk but when you have the slick sounding vocals of Simon, there is no stopping what you can do. The rocker "Bonnie Brae" is a perfect meld of a memorable guitar riff doing battle with Harper's pleasant delivery. It is a combo that gets in your head and makes you want to hear more. "Dixie Cleopatra" has the same effect as the instruments are very heavy handed and rough as they pulse along with Harper's vocal equaling the song's intensity but still maintaining his overall calm demeanor.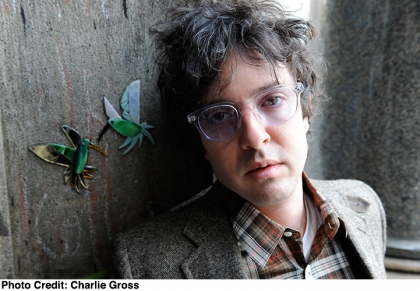 Is Division Street different? Yes, but there are several tracks like the gorgeous "Just Like St. Teresa" which could have been on his debut with its graceful acoustic strum and Simon's floating vocals. This should quickly remind fans why they joined the Harper Simon party in the first place. Even with the more upbeat vibe on Division Street, Simon's vocal charm is here in full force and don't be fooled thinking this album is that much of stretch or completely different – it is not.
Simon co-produced Division Street with Tom Rothrock, who produced three albums for Elliott Smith (Either/Or, XO and Figure 8) and Beck's first album Mellow Gold. Clearly Rothrock knows Harper's sound and it shows on this bigger scale. The album was recorded with several notable guest musicians including Pete Thomas from Elvis Costello's Attractions on drums, Nikolai Fraiture from the Strokes on bass, vocals by Inara George, Feist's musical director Brian LeBarton playing synths, as well as Nate Walcott from Bright Eyes and Wilco's Mikael Jorgensen. The musical talent only adds to the depth found on Division Street and makes the sophomore outing that much more complete. Sure Division Street is not the record most expected from Simon but the expansion of his sound should only lead to greater things down the road which I can't wait to hear!
Key Tracks: "Bonnie Brae", "Dixie Cleopatra", "Just Like St. Teresa"
Artists With Similar Fire: Matthew Sweet / Elliott Smith / Elvis Costello
Harper Simon Website
Harper Simon Facebook
Play It Again Sam Records
-Reviewed by Christopher Anthony
Latest posts by Christopher Anthony
(see all)