Son Volt


Honky Tonk
Rounder Records [2013]



Fire Note Says: Son Volt's Honky Tonk is like a lost sleeve from the golden era of country music's creative past.
Album Review: Here's a funny thing: when loading Honky Tonk into my iTunes library, the digital overlords saw fit to label it as "rock," however, the two earliest Son Volt releases – Trace and Straightaways – were deemed to be "country." The ironic lesson is obvious. Don't let the industrial musical complex tell you what kind of music you're listening to anymore than you'd assume some artist is good merely because they've sold a lot of downloads.
Of course, going back to Jay Farrar's earliest recordings in Uncle Tupelo, there has always been an infatuation with old school, seminal country roots and folk artists, made most explicit on March 16 – 20, 1992 which celebrated primitive folk and gospel of the Louvin Bros. and others. As one might expect from one of the primary songwriters in the band that practically invented the "Americana" sound and alt/country scene, would settle in eventually and deliver a straight country outing. No pretense or artifice.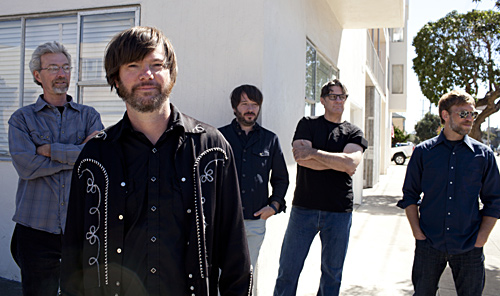 Farrar always frontloads references to his influences – witness Son Volt's name dropping of two essential Memphis labels – so it's no surprise to find a song titled "Bakersfield" on a disc that celebrates the honky-tonk sound popularized by Merle Haggard and Buck Owens & the Buckaroos. Earthy rhythms intended for barroom dancing with soaring melodies played on pedal steel or fiddle, populate songs of love lost and life's hardships and disappointments. There's an authentic quality, a human passion and accessibility in the "everyman" experience in the songs, which Farrar embraces and brings to his own story songs.
There's heartache, and not a little humor, sprinkled in lines like "there's more brick walls than bridges on the way to your heart ('Brick Walls')," and "there's a world full of wisdom inside a fiddle tune ('Down the Highway')." The musical settings and lyrical constructs embrace the rich tradition, allowing Farrar to settle in and get comfortable. Consistent with his artful yearnings, the songwriter looks for that honest connection, "there's a truth that's underlying, the tears of change that must be done ('Tears of Change')."
Farrar's voice is front and central here, backed ably by his band-mates who offer up just the right accents and solos to match the tune's emotion and his gritty soulfulness. The double fiddle leads of the opening track, "Hearts and Minds," later joined by pedal steel and accordion, flows perfectly over the two-step rhythm and sets the tone for the whole recording. As a whole, the disc is like a lost sleeve from a honky-tonk's jukebox from the golden era of country music's creative past.
Key Tracks: "Hearts and Minds", "Bakersfield", "Seawall"
Artists With Similar Fire: Patterson Hood / The Jayhawks / Old 97's
Son Volt Website
Son Volt Facebook
Rounder Records
-Reviewed by Brian Quincy Newcomb
Latest posts by Brian Q. Newcomb
(see all)