Marnie Stern


The Chronicles Of Marnia
Kill Rock Stars [2013]



Fire Note Says: Marnie Stern loosens things up and lets her vocals soar!
Album Review: I will fully admit that The Chronicles of Marnia was the record I have been somewhat expecting from the crafty guitar slinger Marnie Stern. It is album that pushes her music closer to a "mainstream" indie sound while remaining true to herself and faithfully still bringing forward the complex swagger of her three previous records.
This new look for Stern is more subtle than you might think because at first pass through, The Chronicles of Marnia feels and sounds very familiar. It still has her energized vocal pitch and plenty of guitar to put you in awe but you quickly realize on opening track "Year Of The Glad" that she has brightened the complex structures that previous albums relied on. This freedom starts from the loose drumming of new member Kid Millions (Oneida) that now completely complements Stern's mood instead of building up dense walls around her. Don't get me wrong because her previous albums are great but this new free flowing Marnie is dangerously good and opens new paths for her that were not clear before. Some of the credit for this new direction goes to producer Nicholas Vernhes (Wild Nothing, Ted Leo) that really wanted her voice clearer and with fewer guitar parts. What he accomplished was what most fans already knew – Marnie is the full package and Chronicles allows her guitar to support her vocals this time around.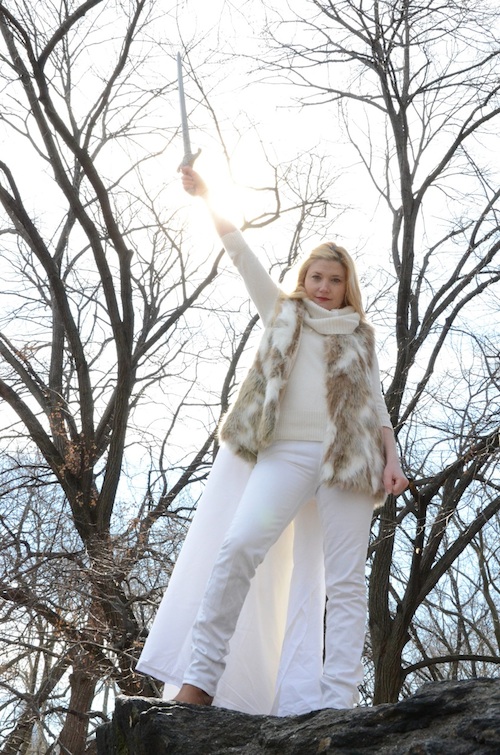 Before long time supporters toss their hands in the air you can rest assured that Marnie's stellar guitar work is all over this record. The beauty of it is that the songs here are more straightforward and her guitar just propels tracks to the next level. The closer "Hell Yes" is a lesson in guitar work, as Marnie yells "c'mon, c'mon, c'mon" in between her intricate playing which is one of those moments that quickly reminds you of her pure talent. On "Immortals" she once again uses her playing skills to increase the intensity of the song that matches her vocals and it gives the listener an almost sort of "take off" feeling as the track crescendos way up and way down. "You Don't Turn Down" starts off with a guitar solo that will make you jealous before pounding skins breaks the track out and everything then gives way to Stern's vocals. These tracks are just small examples of the bigger picture on The Chronicles of Marnia which is that her guitar didn't go anywhere and if you have been a fan you still will be.
Sometimes fans and critics alike will get hung up on a component of change and either love it or hate it. The Chronicles of Marnia is different but I believe it shows a progression that needed to happen for Stern. Sure the album does not have the same dense complexity of previous efforts but it is a loud and fun record that is still another crown in Marnie's catalog and quite honestly just might be my favorite when it is all said and done!
Key Tracks: "Year Of The Glad", "Noonan", "Hell Yes"
Artists With Similar Fire: Liz Phair / Ted Leo / Juliana Hatfield
Marnie Stern Website
Marnie Stern Facebook
Kill Rock Stars
-Reviewed by Christopher Anthony
Latest posts by Christopher Anthony
(see all)