Low


The Invisible Way
Sub Pop Records [2013]


Fire Note Says: Low return with plenty of new ideas on the engaging The Invisible Way.
Album Review: The biggest story on Low's tenth record, The Invisible Way, will be that Wilco's Jeff Tweedy was sitting on the other side of the microphone and produced the thing. Although noteworthy, the real story should be that Low once again make some pretty damn good and gorgeous music as The Invisible Way is another highlight in their 20 year career as a band.
Following the same return to early form direction that 2011's C'mon took, Low once again dial things back and create a record that is intimate, sophisticated, detailed and most of all memorable. Right from the easy strumming on opener "Plastic Cup" singer Alan Sparhawk demands your attention with his ever so soft but commanding vocals as he sings "you could always count on your friends to get you high." This starts the tale of a person dealing with a drug issue and is summed up in the last lyric that pointedly gives the advice "Well maybe you should go out and write your own damn song – And move on." This track gives you the mood, style and direction of The Invisible Way but does not clue you into the album's secret weapon.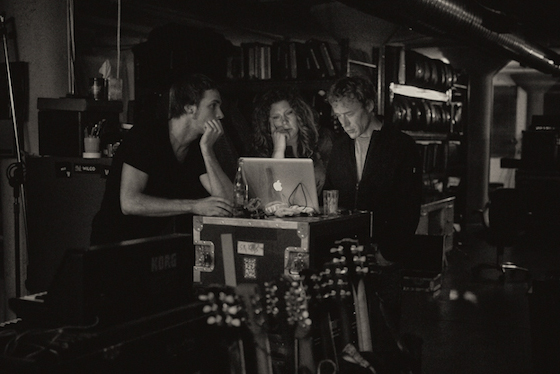 That weapon of course would be Sparhawk's better half, Low member and wife Mimi Parker. Her voice always plays a big part in Low's sound, as well as her drumming but on The Invisible Way Parker takes the lead on five of the eleven tracks. This is a big step up from the one or two she typically handles and The Invisible Way is even better for it. The track "Holy Ghost" is the perfect example as it relies on Parker's siren type vocal to guide it through its spacial instrumentation. As she sings "some holy ghost; keeps me hanging on" with such passion and conviction you just wait for her next word. This anticipation makes for a great song and that is exactly what Parker delivers each time she steps upfront to the mic. This by no means puts Sparhawk in the backseat but the more even balance along with their spot on duel melodies makes for a new twist in this long standing group.
For a band that has been with us for two decades, The Invisible Way feels and sounds fresh. With an increased piano and acoustic guitar Low bring plenty of new ideas to the table but still maintain their engaging confidence that will not disappoint longtime fans. Like much of their previous work, The Invisible Way is a true slow burn. The record gets better with every spin and even though I stopped my rating at a four today, I think as this one settles in even more The Invisible Way will not only target our top 50 but will probably make a solid landing!
Key Tracks: "Holy Ghost", "Clarence White", "Just Make It Stop"
Artists With Similar Fire: Beach House / Spain / Red House Painters
Low Website
Low Facebook
Sub Pop Records
-Reviewed by Christopher Anthony
Latest posts by Christopher Anthony
(see all)