The Sunflower Logic


Clouds On The Polar Landscape EP
Pink Banana Records [2013]



Fire Note Says: Robert Pollard plays it loose and releases one of his most unique recordings to date!
Album Review: If you are scratching your head some then you should be told right away that The Sunflower Logic is a Robert Pollard project. Longtime fans won't be surprised by this new musical creation as that is just the way Uncle Bob works. The group is comprised of brother Jim Pollard on guitar and noise, Joe Patterson on bass and a surprising Greg Demos on drums. Pollard also gets in the game as he not only has vocals but plays guitar and piano as well. What you can expect from a new Pollard band is a new sound and that makes the release of Clouds On The Polar Landscape an exciting listen.
I had no real expectations for The Sunflower Logic and that was the perfect mindset to click play. Right from the opening track, "UFO Nights", you know that this EP is a definite directional turn from Pollard's solo work. The song has a certain eeriness to its backdrop of guitar, noise and drums, especially midpoint when Pollard states, "talk to the mirror; voices are clearer; on UFO nights." This instantly reminded me of Willy Wonka's crazy ass wondrous boat ride as the track gets a little faster, a little noisier and features a super calm Pollard still driving the ship. "I Wanna Marry Your Sister" kicks off with a recorded phone message before it crawls along with sparse guitar strums and Pollard's best folk even bluesy vocals with a little feedback that keeps the listener at arms distance but wanting more.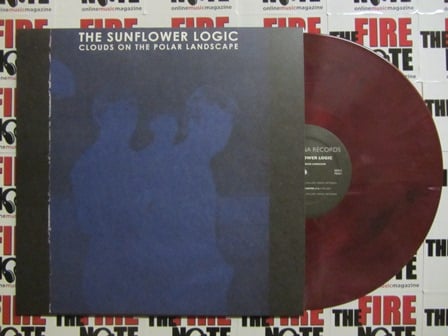 This overall free and laid back recording keeps things loose as The Sunflower Logic turn up the volume a bit on "I Was A Boy" with a memorable riff that runs through the song as Pollard's projected vocals come off loud but like he is shouting from a tunnel. This effect highlights the essence of this EP and why it is a fun listen. The Sunflower Logic close with the longest song on the EP "Fuck You Mr. Smith" and it is the perfect ending to a record that stays unconfined. The track is somewhat hazy, somewhat psychedelic, somewhat distorted and then closes with 13 variations of Pollard singing "Fuck You Mr. Smith." Let's just say it is an easy track to sing along with and down a beer!
The Sunflower Logic will not be for everyone because it is a true indie recording that captures new ideas and avenues from a man that seems like he should have traveled them all before but still finds new paths. Clouds On The Polar Landscape will not be something you play all the time or an EP that will sell the undecided listener on Pollard's work but it will be a recording that stands out over time. I say this because it is a different listen that just emphasizes Pollard's passion for making music, not being afraid of taking risks and giving fans another dose of what they love – diversity!
Key Tracks: "UFO Nights", "I Was A Boy", "Fuck You Mr. Smith"
Artists With Similar Fire: Black Wave / Jock Tattoo / Teenage Guitar
Robert Pollard Website
Robert Pollard Facebook
Pink Banana Records
-Reviewed by Christopher Anthony
Latest posts by Christopher Anthony
(see all)