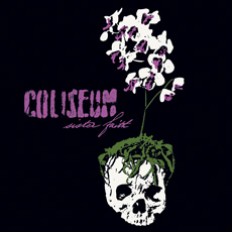 Celebrating their 10th year as one of independent music¹s most substantive bands, Louisville¹s Coliseum return with their fourth full-length, the stunning Sister Faith, to be released on April 30 on Temporary Residence Ltd. Expanding on the anthemic direction the trio veered toward on 2010¹s highly acclaimed House With a Curse, Sister Faith¹s 13 songs are the most dynamic and immediately captivating of the band¹s career, bristling with galvanizing melodies at the collision point between punk and noise-rock. The first album to be recorded in producer J. Robbins¹ recently relocated Magpie Cage Studios, Sister Faith is also the first Coliseum recording to feature new bassist, Kayhan Vaziri, in addition to contributions from some of the groups¹ closest friends and musical peers: Wata of Boris, J. Robbins (Jawbox, Burning Airlines), and Jason Loewenstein (Sebadoh, The Fiery Furnaces), Jason Farrell (Swiz, Bluetip) all make small but memorable contributions.
VINYL FORMAT INCLUDES FREE MP3 DOWNLOAD COUPON AND DELUXE FULL-SIZE 16-PAGE BOOK W/ EXCLUSIVE ARTWORK & PHOTOS
You can pick one up HERE while they last!

Latest posts by Christopher Anthony
(see all)