Suuns


Images Du Futur
Secretly Canadian Records [2013]



Fire Note Says: Montreal act's second album impresses in almost every way.
Album Review: If imitation is the highest form of flattery then Clinic must be mightily pleased with the sophomore effort by Montreal's Suuns. On their stunning 2010 debut, Zeroes QC, Suuns conjured up a highly stylized post-punk kraut-rock hybrid that sounded at times a lot like a certain Liverpudlian band. It was a small misstep on an otherwise great debut. One could have assumed that this would be corrected for album number two. So what did Suuns do instead? Double down on the Clinic influence and make every song sound like something off of either Internal Wrangler or Walking With Thee. It's all a bit strange, actually. What's stranger still is just how good Images Du Futur is. More organic than its predecessor, the subtle use of repetition and nuance has kept me coming back time and again.
Suuns wisely chose to use Jace Lansek (The Besnard Lakes) again to produce and the first thing that hits you on lead-off track "Powers Of Ten" is the quality of his recording prowess and/or the equipment at his Breakglass Studios. The polyrhythmic core of the song threatens to break apart at any time, leaving the listener breathless and enthralled. Lead singer Ben Shemie announces that he's "Got it together/I read it in a paper/All of these strangers/Stranger and stranger" in a humorless half-whisper. His chilly detachment makes it easy to believe that human contact is not really his thing exactly. "2020" builds around what sounds like a guitar being detuned over a throbbing dub-like bass and hi-hat. When the full drum kit kicks in it is quite powerful. These are the moments in which Suuns shine bright.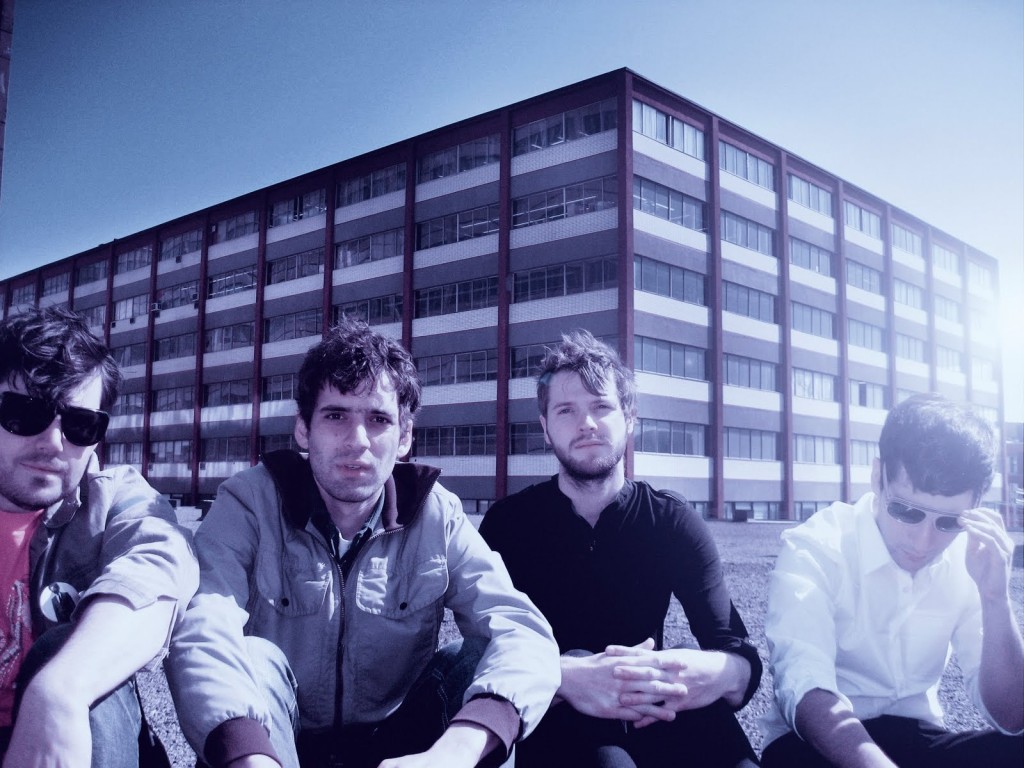 The next two songs represent Suuns' formula best: "Minor Work" and "Mirror Mirror." There is a mechanical aloofness akin to Kraftwerk present in both songs. Sexless dance numbers performed by Neu! with Thom Yorke on vocals. Or perhaps Spoon recording in Antarctica. But it is the next song that really got me – "Edie's Dream." With a weird syncopated bass line that at first sounds way off, Shemie tells us that "It's good feeling good" and I can't honestly say I believe him. He does not sound like he's feeling much of anything.
Despite that, there is much to admire here: from the jazzy restraint of "Sunspot" to the staccato guitar riff (courtesy of unsung six-stringer Joe Yarmush) in "Bambi" and the synth drone of the title track. Each listen reveals more detail and a rich, disturbing vision of the future appears. But still, most disturbing is how closely these guys resemble Clinic. This is a problem for them as it was for Klaatu, Starcastle and Creed. Better to be remembered as The Beatles, Yes and Pearl Jam. But for every Godsmack (Alice In Chains rip-off's) there can be a Muse (Queen/Radiohead.) So it's not a deal-killer but it does detract from what could have been an Album Of The Year contender. And in the end, I doubt they care as the final track testifies: "Try as you might/Sing the same old song/Your music won't save you." Unless, of course, it does.
Key Tracks: "Powers Of Ten", "2020", "Edie's Dream"
Artists With Similar Fire: Clinic / Liars / Radiohead
Suuns Website
Suuns Facebook
Secretly Canadian Records
-Reviewed by Scot Lade
Latest posts by Scot Lade
(see all)