Off With Their Heads


Home
Epitaph Records [2013]



Fire Note Says: Off With Their Heads return with a more mature outlook but are still 100% punk rock!
Album Review: Minneapolis outfit Off With Their Heads play a straightforward type of punk rock that is in your face but completely controlled. I know that some of our readers out there have issues with the punk genre in general because they feel everything sounds similar including the vocals, chords and speed. That may be true for some bands but Off With Their Heads stress the "rock" part of punk as their music is more diverse compared to what people think the standard is.
This is an exciting thing for fans as Home is a mature journey for OWTH that was built from blood, sweat and tears. Everything lead singer Ryan Young sings is with such conviction and purpose that it drives home every line. Meaningful is always good as "Shirts" has the memorable line "I don't feel like me, whoever that's supposed to be; I'm a different person every time I come home" which shows Young's current outlook on living life out of the van. This more mature perspective consistently shows itself throughout the record like on "Focus On Your Own Family" when Young powerfully states "If you don't take care of yourself, you're going to be eaten alive." The band also attempts to provide some balance in the overall flow on Home with several ballads. That may be "un-punk like" in some circles but OWTH pull it off especially on "Don't Make Me Go" as it continues the theme that no matter how far you go away unresolved issues never leave until you deal with them. On this track the band does a nice job of letting Young's raspy vocals stay out front but still having some real teeth when the guitars chime in. This song structure is how a band like OWTH can pull off a "ballad".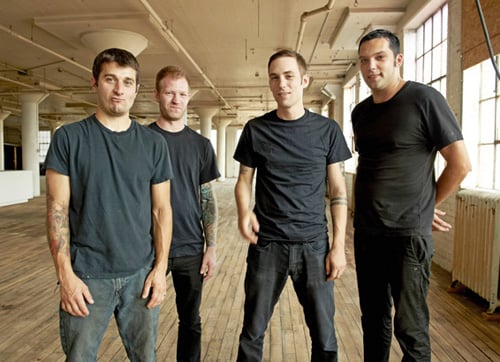 Home is solid addition to Off With Their Heads collection and shows a band that is growing up. I really liked the quick punk assault of their last record In Desolation (2010) but Home holds its own with some of its new twists. The melodic venom that made the band so infectious in the first place is alive and kicking on Home even though it is more carefully directed. So if you are looking for a no bullshit punk rock album, Off With Their Heads are waiting for you as their Home might just strike the right chords!
Key Tracks: "Shirts", "Nightlife", "Don't Make Me Go"
Artists With Similar Fire: Against Me / Face To Face / Dropkick Murphys
Off With Their Heads Facebook
Epitaph Records
-Reviewed by Christopher Anthony
Latest posts by Christopher Anthony
(see all)