The Replacements


Songs For Slim EP
New West Records [2013]




Fire Note Says: What more do I need to say…it's The Replacements!
Album Review: I can honestly say that I never in my wildest dreams expected to be listening to new music from The Replacements. Their last records, 1990's All Shook Down, while a solid record, was not a fitting swan song for the Mats. Through their respective careers in the 23 years since that record, Paul Westerberg, Tommy Stinson, and Chris Mars, were asked countless times if they would ever get back together, and the answer was always "No". So why release a record now? That's actually a pretty easy question to answer. Slim Dunlap, who joined the band on guitar after Bob Stinson, had a stroke in February 2012, and no medical insurance to cover the cost of his health care. That was more than enough for the boys to get together and do something to help their old compadre. What they came up with was Songs For Slim, a 5 song ep that was originally pressed in a small vinyl run and auctioned off to raise money. On March 5th, Songs For Slim was given a digital release, with a more barebones vinyl edition to follow at a later date in April. The first two tracks are covers of songs written by Dunlap, with side two being older cover versions of 3 songs, very much in the spirit of what they were doing in the 80's in their live sets. In the words of Westerberg, this band still "Rocks like a mother".
So the question is, are they still any good? The answer is a resounding yes! "Busted Up" is a scorcher that rocks on a Bo Diddley beat, with great gang vocals. From the get go, it's immediately obvious that they haven't lost a step. Only one band in the world sounds like this! "Radio Hook Word Hit" is actually all Chris Mars. It features a slightly more lo fi production, but the guitars snarl, and his vocals sound great. It's a catchy ditty that gets better with every listen. On my first pass through the ep, I thought this was definitely the weakest song on the record, but I know think it's arguably top two on the record. "I'm Not Sayin" is a cover of an old Gordon Lightfoot chestnut. Although given the fact that Paul has covered Nico's "These Days" (written by Jackson Browne) I'm gonna wager a guess that he knows the track because of her and not Gord's version. This song sounds like it could have fit in comfortably on Pleased To Meet Me, and would have been a top five song on that classic record. It's that good. "Lost Highway" was popularized by Hank Williams, and this version here is classic sloppy Replacements. It seems like it's going to fall apart, but it never does! "Everything's Coming Up Roses" is a fitting closer, it's an old broadway tune. It's optimistic and fits the mood of the project perfectly. If they never record another song again, this one is the absolute perfect conclusion.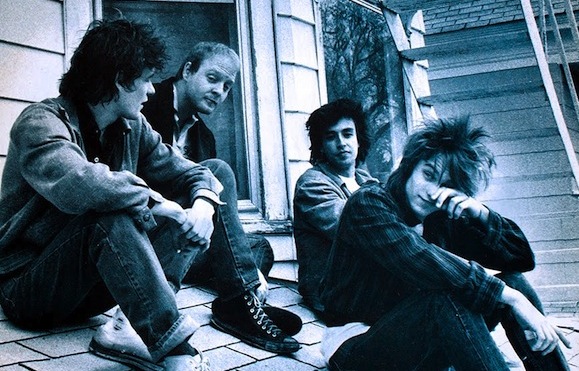 I don't know if this is the beginning of another chapter, or the final conclusion to one of the greatest bands in rock history. Either way, I'm happy that I got to experience, and I hope they are able to raise enough money to take care of Slim. Go download this now, you won't regret it. The music is fantastic, and there is no better cause to support.
Key Tracks: "I'm Not Sayin", "Everything's Coming Up Roses", "Radio Hook Word Hit"
Artists With Similar Fire: R.E.M. / Hüsker Dü / Meat Puppets
New West Records
-Reviewed by Kevin Poindexter
Latest posts by Kevin Poindexter
(see all)