Chelsea Light Moving


Chelsea Light Moving
Matador Records [2013]



Fire Note Says: Thurston Moore returns with his thundering new band Chelsea Light Moving.
Album Review: In 2011, Sonic Youth announced that the band was "ending for a while" following the separation of Thurston Moore and Kim Gordon. Now if you are Thurston Moore what do you do next? Grab an acoustic guitar? Start playing the piano? Maybe go country? How about forming a new band called Chelsea Light Moving and creating one of the heavier noisy rocking experiences that Moore has produced in years?
Well I hope you picked the last of the selections because that is exactly what you get with Moore's new gig Chelsea Light Moving which sounds venomous, fresh and right out of 2013. The opening track "Heavenmetal" is a just over 2 minute song that floats along with Moore's almost whisper type vocals and slow paced guitar playing. It really is the perfect set up to what happens next as "Sleeping Where I Fall" features a more familiar almost Sonic Youth type guitar opening until the song just keeps getting heavier. It also almost nearly hits six minutes so there is plenty of room for noise and utter craziness as the band rips it up. This leads you into the almost 8 minute and even heavier "Alighted" which has a pulsing deep riff that never lets up until mid-song when Moore steps in with a polite 40 seconds of vocals before the pounding assault takes over again.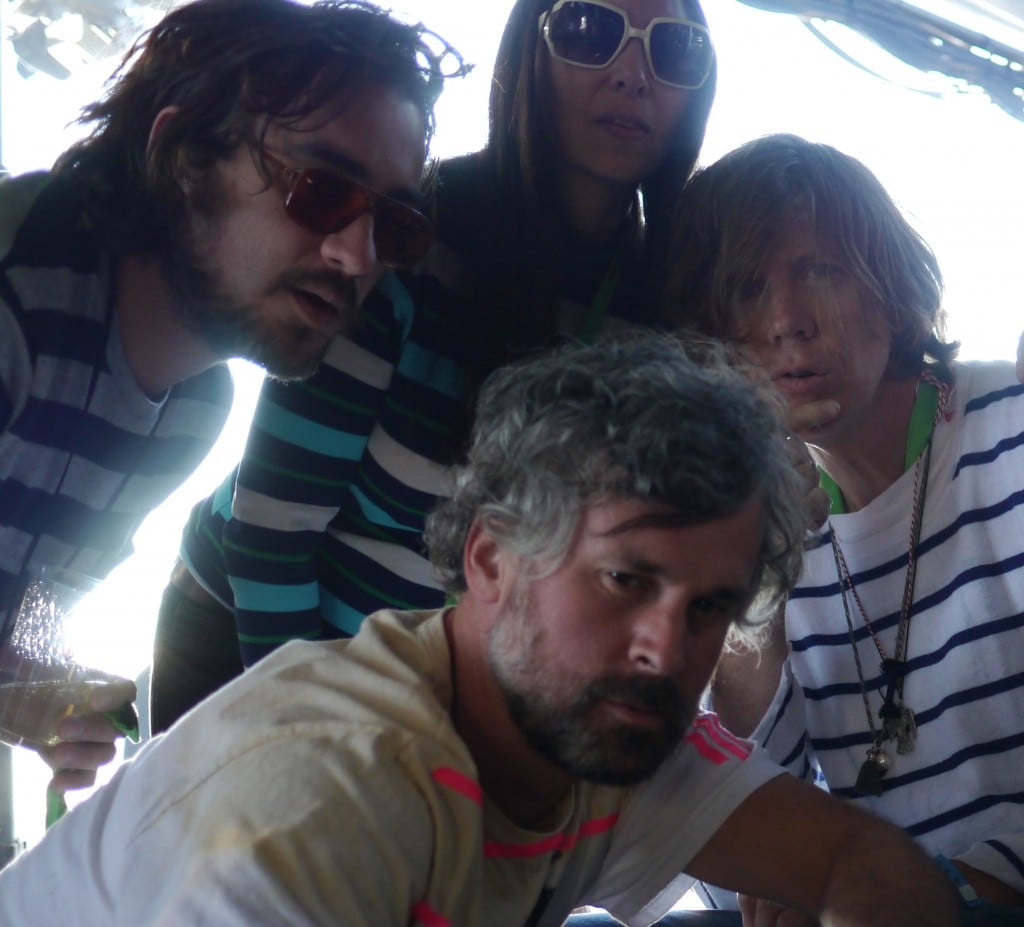 There are plenty of these up and down type tracks which play with the heavy meter. At times the songs still have a Sonic Youth imprint but when they rip and tear like "Lip" with its simple chorus of Moore shouting "too fucking bad" there is no comparison. The album is longer at the almost 50 minute mark but should keep your interest as each track offers something different. The only one piece I would say that holds Chelsea Light Moving back a bit is the album's inability to have that moment when as a listener you know you want to go back. I just never had that aha moment even though the compositions here are solid.
It is nice to see Moore moving on and amping things up on Chelsea Light Moving. This is a heavy record that has some nice indie undertones and should build an entire new fan base. Let's just say that at 54, Moore shows no signs of turning things down because it would have been easy to record 10 acoustic numbers and went home. Instead, Chelsea Light Moving gives you 10 well-crafted pieces of art that make rocking out very easy!
Key Tracks: "Sleeping Where I Fall", "Lip", "Alighted"
Artists With Similar Fire: Sleep / Dinosaur Jr. / Sonic Youth
Chelsea Light Moving Facebook
Matador Records
-Reviewed by Christopher Anthony
Latest posts by Christopher Anthony
(see all)