Tim Easton


Before The Revolution: The Best Of 1998-2011
New West Records [2013]




Fire Note Says: Tim Easton catches you up with his excellent career spanning best of!
Album Review: The Fire Note has been talking about Tim Easton since our humble beginning back in 2006 with his record Ammunition and listening to his music since 1996. Every release after Ammunition I thought; this would be the record that was going to make Tim Easton known to the masses. To my surprise it still has not happened. The Ohio native has released seven quality folk/rock solo records with four of them being on the well know New West Records label. Combine that with having big names on his albums like Gary Louris and Tim O'Reagan from the Jayhawks, Lucinda Williams, Tift Merritt, Sam Brown (Divine Fits, New Bomb Turks), and Ken Coomer (Uncle Tupelo, Wilco) to just name a few; it all should of added up to success but here we are – a best of compilation and people still asking who?
You might say to yourself – how does a guy like Tim Easton possibly have a best of record? Well take a listen. Easton was recording for New West because they saw the talent and these 19 tracks, spanning his entire discography, are solid proof that The Fire Note and New West Records were not crazy. From the upbeat Wilco like opener "Help Me Find My Space Girl", that dates back 1998, to the closing acoustic foot tapper "Festival Song" from 2011's self-released Since 1966, Vol. 1, you will notice that Tim Easton has had the same infectious honest delivery over the years and consistently pours everything he has right into his songs.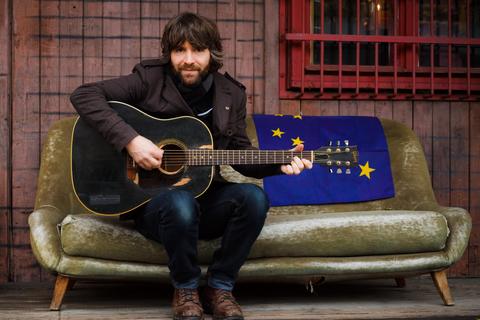 The selection on Before The Revolution can't be argued too much although like any best of there were several omissions that I wish made the cut. From The Truth About Us (2001) I would have liked to see "Happy Now" which shows off a very radio friendly side to Easton or some of his more rollicking roots rock numbers such as "Lexington Jail" off of Break Your Mother's Heart (2003). It would have also been great if this album could have reached back even farther to his Haynes Boys record that even today still has some of my favorites from Easton.
Regardless of several of my personal replacement tracks, Before The Revolution accomplishes giving you the many sides of singer/songwriter and Americana troubadour Tim Easton that highlights all of his talents. Tim Easton may not ever be a household favorite but I will tell you that he will always be one of mine and if you are fan of Wilco, Bob Dylan, Son Volt and even Elliott Smith, I can guarantee Before The Revolution will have an immediate appeal. This release is not only a great summary of Tim's work but it also should get new followers and longtime fans excited for fresh material as it is quite possible that Easton's best work still lies ahead!
Key Tracks: "Help Me Find My Space Girl", "Broke My Heart", "Next To You"
Artists With Similar Fire: Jeff Tweedy / Rhett Miller / Ryan Adams
Tim Easton Website
Tim Easton Facebook
New West Records
-Reviewed by Christopher Anthony
Latest posts by Christopher Anthony
(see all)