The Cave Singers


Naomi
Jagjaguwar Records [2013]



Fire Note Says: The Cave Singers blend classic influences with modern sounds on Naomi.
Album Review: The indie-folk scene has become pretty crowded the last few years. Acts such as Iron & Wine, Bon Iver, and Fleet Foxes have proven that audiences still have a soft spot for something a little more laid-back and introspective. Seattle-based outfit The Cave Singers (who share a member, bass-player Morgan Henderson, with the aforementioned Fleet Foxes) loosely fit within the indie-folk mold, but have a broad enough musical palette to also be classified as indie-rock, or just straight indie (whatever those labels mean). In other words, the band consists of the typical rock-band lineup: guitars, bass, and drums, with the obligatory odd instrument thrown in every once in a while. Naomi, the band's fourth LP, finds them playing songs that have a very clean, but not over-produced, sound.
The album starts off with "Canopy," a great opener with quirky guitar plucking and a simple backing beat. The track is somewhat reminiscent of Vampire Weekend, but rolls along at a more leisurely pace, never reaching the manic tempo of some of that band's more energetic songs. The energy is kicked up a notch a few songs later, though, with "It's a Crime," where lead vocalist Pete Quirk gets his Mick Jagger on over top a swaggering garage-rock riff. It's a surprising turn for the first half of the album, but serves as a preview for some of the more lively tracks featured on Naomi's second half.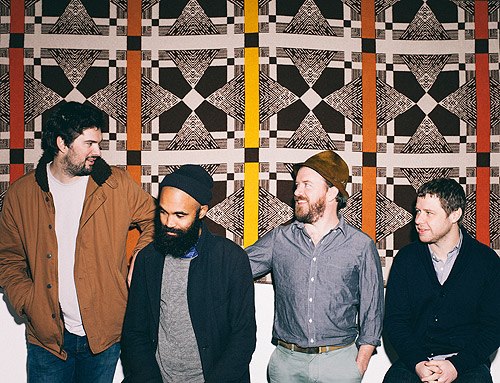 The quieter tracks dominate most of the album, and while they're fairly subdued instrumentally, Quirk's vocal melodies keep things interesting, and the music never reaches "lazy" or "boring" levels of subtlety. Tracks like "Evergreens," for instance, are built around mellow but solid guitar lines that recall tracks like The Beatles' "In My Life," with warm electric guitar providing a musical backbone. Lyrically the album feels personal but at the same time thematically universal; we don't know who Karen is or why the singer thinks her car is his only friend, but everyone can relate to lines like "Stuck in the world / Trying to make a change / Fell in love / But I know we will split again" ("Karen's Car").
A few of the tracks do fall slightly short. "Easy Way" is a straightforward rock track, with distorted guitars and steady drums, but it doesn't really go anywhere, and despite some nice flute halfway through, Quirk's vocal sounds like he's bored with the track before it begins. Meanwhile, Henderson's bass playing is stellar throughout the album except on "Early Moon," where his attempt at a Chris Squire imitation makes an otherwise interesting track sound overly busy. Several of the tracks could also be accused of sounding too similar to each other, though this is more a case of consistency than lack of imagination.
Despite these slight missteps, Naomi is a strong album that feels both rooted in classic sounds and refreshingly modern at the same time. The nods to the past aren't the focus here—they're simply one texture in the band's musical tapestry. It's an approach that keeps the band from sounding like a retro act and makes Naomi an album that should appeal to indie-[insert genre here] fans everywhere.
Key Tracks: "Tapestry", "No Tomorrows", "Karen's Car"
Artists With Similar Fire: Vampire Weekend / Grizzly Bear / Bonnie "Prince" Billy
The Cave Singers Website
The Cave Singers Facebook
Jagjaguwar Records
-Reviewed by Simon Workman
Latest posts by Simon Workman
(see all)