Cloud Cult


Love
The Rebel Group [2013]



Fire Note Says: Cloud Cult's Love is a musical story book packed with themes, lessons, and a bit of reassurance that it's going to be ok.
Album Review: Cloud Cult mastermind Craig Minowa has led an interesting life. His story entails love, loss, acceptance, education, environmentalism, creativity, and achievement (It's a story worth delving into). But, to keep things on the shorter side Minowa's Cloud Cult has been making environmentally friendly music since 1995. Known also, for their live shows which include a live performance art presentation. Cloud Cult's experimental quirk, charm, and whit are a natural process of their recordings. Love, the band's ninth studio album seems to be an exercise in getting through the troubles of the past. Its epic orchestrations are the power of the healing process, the explorative lyrics help you cope, and the 13 tracks are the steps to gain a stand back on the right track.
A lot of the style and influence here seem to draw from a multitude of sources. There are ties to the epic post rock explosions of believe it or not Explosions in the Sky. There are nods to the sometime electronic tropes of instrumentalists' Mogwai. But, then there are the tender shimmers of a touching Richard Edward's ballads ("A Light On a Hill" is a good example). What ties everything together is the fun, child like moments akin to Architecture In Helsinki or Noah and The Whale. The orchestral overtures that closely shadow Canadian indie vets Arcade Fire. It's the weird debaucheries that fall out of Modest Mouse works; it's the lofty dynamics and tones that keep the album afloat for the 13 track duration.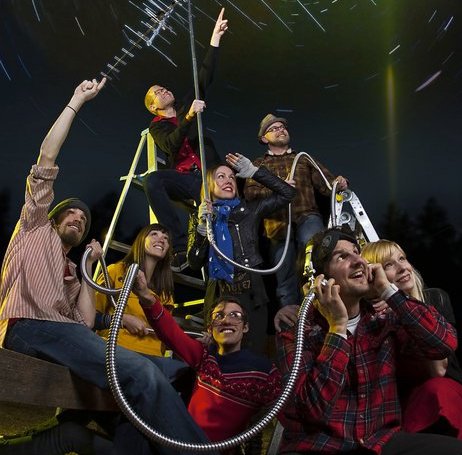 "You're The Only Thing In Your Way" is Minowa greeting us with his gentle lullaby like coo. "It's Your Decision" pours on the heartwarming beauty at the start, Minowa calls for an emotional check before progress can be made. But, the song quickly teases an Isaac Brock like guitar stomp. Dynamics then quickly shift all over again with a post rock essence wrapped around unraveling orchestral fury. "Complicated Creation" is a straight forward Modest Mouse march and shout along. It's here on the album that the keys play a big part. It's the prowess of the ivory tickler that pushes the album and tracks beyond ordinary. "The Calling" when the lyrics are not being heard does its best Explosions in the Sky impression-It's the midpoint antithesis that the album requires. "Meet Where You're Going" evokes a reminiscent sweet, singer/songwriter vibe; Philip Phillips might come to mind here. "Catharsis" is an interesting, cutesy instrumental that could easily be liked to Arcade Fire like ties. "The Show Starts Now" is about making the moment count, thundering drums play under the clever lyrics "You're afraid of the dark/But that's where you learn to see". The children's choir chanting along makes for a strong finish.
Cloud Cult's Love, just like their expansive 2005 opus Advice From The Happy Hippopotamus, is an album that cannot be taken in chucks. The more you listen to it, the more that leaps out at you. To get the most out of it a bit of active listening is requited and it's not the perfect album. During my listen of Happy Hippo it gave a great insight as to what Cloud Cult can accomplish. Maybe a bit more transference of that magic here would have given me a reason to bump up the score. But, I'm just happy a band like this exists and you should be too!
Key Tracks: "Complicated Creation", "The Calling", "Sleepwalker"
Artists With Similar Fire: Arcade Fire / Modest Mouse / Electric President
Cloud Cult Website
Cloud Cult Facebook
The Rebel Group
-Reviewed by Christopher Tahy
Latest posts by Christopher Tahy
(see all)