Tegan and Sara


Heartthrob
Warner Bros. Records [2013]


Fire Note Says: With Heartthrob, Tegan and Sara mix in new sounds with familiar stories of love and heartbreak.
Album Review: Tegan and Sara's seventh studio album, Heartthrob, strays slightly from the duo's previous albums, mixing pop and club music with their familiar singer/songwriter sound. True to Tegan and Sara, the album's lyrics tell about relationships, focusing mostly on the ups and downs of the beginning and the end. Working less as a complete set and more like short stories, the tracks are both fast and slow, using various types of sounds and mixing genres.
With its first song, "Closer," the album sets itself apart from former Tegan and Sara music. The song has a pop, club music sound. It's fast and edgy, telling about getting closer in a relationship. In contrast, the next song "Goodbye, Goodbye" has a singer/songwriter sound, familiar to Tegan and Sara. It's reflective, singing about loss and love to the same fast speed as "Closer."
"I Was a Fool" is slower, sorrowful, and thoughtful singing "I was a fool for love" over and over again. The song tells a story, evaluating moments of a relationship. The next two tracks, and some of the best on the album, are both upbeat and catchy. "I'm Not Your Hero" is both a rant and declaration, singing about the end of a relationship. "Drove Me Wild" is a party song, using sexual lyrics to tell a story.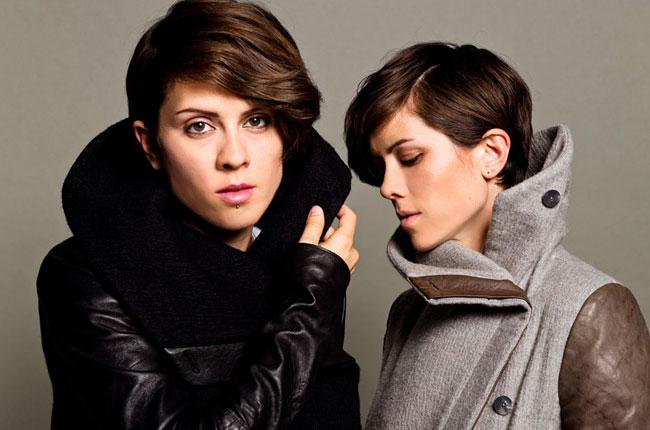 Closest to familiar Tegan and Sara sound and story, "How Come You Don't Want Me" is again about a heartbreaking ending. It's both angry and sad, pleading: "why don't you want to win me now, why don't you wanna show me off?"
The next couple of tracks are light, using echoes. "I Couldn't Be Your Friend" is both soft and aggressive, mimicking Enya with repetitive, layered vocals. "Love They Say" is slower and more reflective. It has a positive outlook in sound and lyrics, singing "there's nothing love can't do."
Adding a little attitude to the album, "Now I'm All Messed Up" is reminiscent of En Vogue and TLC. The song is sorrowful, pleading, and resentful. It uses conflicting words in the chorus layering the words "go" and "stay." The last track, "Shock to Your System" is about contentment. It tells a story using slower beats and echoes saying both "what you are is lonely" and "you must rely on love once in a while."
With Heartthrob, Tegan and Sara have managed to grow as artists and stay true to their music. Although the album uses unfamiliar techno and club sounds, it also mixes in stories of love and heartbreak.
Key Tracks: "I'm Not Your Hero", "Drove Me Wild", "How Come You Don't Want Me"
Artists With Similar Fire: Yeah Yeah Yeahs / The Ting Tings / Bat For Lashes
Tegan and Sara Website
Tegan and Sara Facebook
Warner Bros. Records
-Reviewed by Michelle Morgan