Nick Cave & The Bad Seeds


Push The Sky Away
Bad Seed Ltd. [2013]



Fire Note Says: Nick Cave & The Bad Seeds get right to business on the sophisticated and brooding Push The Sky Away.
Album Review: At this stage in the game I don't think anyone will deny the influential rock status of Nick Cave. With or without the Bad Seeds his records continually make a statement , are always about new exploration, and continually provide a fascinating listen. Push The Sky Away follows this same course but like all his previous records it finds its niche.
Cave's last outing with the Bad Seeds back in 2008 was the rocking and critically lauded Dig!!! Lazarus Dig!!! so it would be easy for Push The Sky Away to rev things up but it completely goes the opposite direction. It features 9 brooding tracks from the band that ooze emotion and thought proving statements. You might think that you have heard this before from Cave but what sets this album apart from some of Cave's solo works like Abbatoir Blues/The Lyre of Orpheus (2004) or his Seeds albums such as The Boatman's Call (1997) is the direct forwardness of Push The Sky Away's somberness. Each track has a chip on its shoulder and comes at you more straightforward instead of being somewhat orchestrated like his earlier more subdued works. Push The Sky Away instead feels like an extension of his and Warren Ellis's soundtrack work that strikes an even deeper chord with lyrics.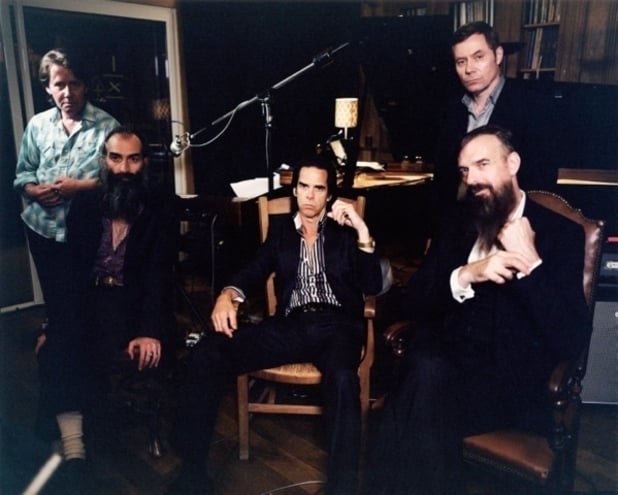 This style shines on tracks like the over six minute "Jubilee Street" that lets Cave tell a story while the Bad Seeds build their own chapter in the background with a progressively intense arrangement that builds and builds until the guitar line gets under your skin. It is a track that after you hear it several times screams Nick Cave "classic". On the opening "We No Who U R" the Bad Seeds intertwining instrumentation once again stands out as it builds textures around Cave's spoken word delivery. This background building from the Bad Seeds in conjunction with Cave's focused vocals propel Push The Sky Away even when a track like "Higgs Boson Blues" almost hits the eight minute mark.
Push The Sky Away over time will only get better as it is a grower. You keep expecting tracks to break out with the Bad Seeds on watch but they never do. This could be disappointing upon first listen but after several spins you realize that their talents are used in so many different ways that this record would not be the same without them. Nick Cave will be remembered as one of the great troubadours and Push The Sky Away is one more example of why we feel that way!
Key Tracks: "Jubilee Street", "We No Who U R", "We Real Cool"
Artists With Similar Fire: The The / Tom Waits / The National
Nick Cave & The Bad Seeds Website
Nick Cave & The Bad Seeds Facebook
-Reviewed by Christopher Anthony
Latest posts by Christopher Anthony
(see all)