Local Natives


Hummingbird
Frenchkiss Records [2013]



Fire Note Says:No sophomore slump for the Local Natives with Hummingbird.
Album Review: Local Natives' first album, Gorilla Manor, was one of my favorite albums of 2010. With tracks like "Airplanes," "Camera Talk," "Wide Eyes," and "Sun Hands" the Los Angeles-based band had an accessible sound that also challenged me. With great debuts there is also the worry that the artist won't be able to capture the magic again on subsequent releases. Local Natives tosses that worry aside and establishes their staying power with Hummingbird; they have laid the groundwork for a successful future.
The album's first track "You & I" is a mid-tempo number that sneaks up on you. It has a surfy vibe with a seemingly mismatched percussive section that has an African feel to it. The two elements are fused together with solid expressive vocals. At times Kelcey Ayers' voice emotes something powerful in what is said – and at other times the howls, hums, and other sounds made express something just as powerful. The combination of the vocals, the dreamy guitars, and percussion, with a great hook, make "You & I" one of the standouts on the album. My favorite track followed next, "Heavy Feet." This is the heavily promoted single from the album for good reason. There is once again exquisite harmonizing taking place from disparate sources: drums, keyboard, and guitar. That harmony gives the song a tangible feel to it that is melancholy and hopeful. It ends abruptly but will stay with you for a long time. "Breakers" once again is infused with West Coast dreamy pop and then reigns itself in after a minute. Its restraint is balanced with the muted blast of the chorus, with harmonized woos after which the song continues to build.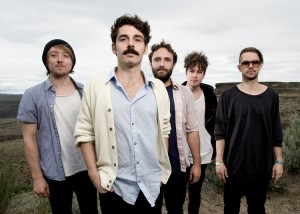 I would've given Hummingbird a higher score if not for the next-to-last track, "Colombia." My kids and I began to mock the desperate repetition of the question "Am I giving enough?" that seemed to fill the song. While I appreciate the attempt made here, the track came off as more grating than captivating. This misstep aside Hummingbird is a great album throughout and should both please existing fans and garner Local Natives new listeners. The band takes the influence of Afropop and makes it accessible with their unique brand of harmony and hooks. I'm already looking forward to their next effort!
Key Tracks: "You & I", "Heavy Feet", "Breakers"
Artists With Similar Fire: Grizzly Bear / Arcade Fire / Edward Sharpe & The Magnetic Zeros
Local Natives Website
Local Natives Facebook
Frenchkiss Records
-Reviewed by Matthew Heiner
Latest posts by Matthew Heiner
(see all)