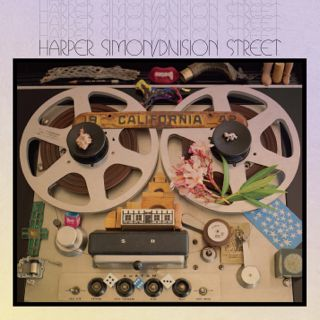 Harper Simon (Paul Simon's son) has announced the follow-up to his critically acclaimed debut with new album Division Street, produced by Tom Rothrock (Elliott Smith, Beck) via Play It Again Sam on March 25th 2013. With Division Street, Harper dives into new musical territory accompanied by new stories.
Division Street is a departure for Simon: it features a sound that's much more driven by electric guitars than his alt country-flavoured debut. "The mission was to make the kind of Rock 'n' Roll record I would want to listen to myself," he says. "Which sounds simple but is, in fact, incredibly difficult."
Simon co-produced Division Street with Tom Rothrock, who produced three albums for Elliott Smith (Either/Or, XO and Figure 8) and Beck's first album Mellow Gold, among others. As the team worked, the album's sound grew rougher around the edges. "I felt challenged and inspired by the idea of making a modern psychedelic folk-rock album, a Tom Rothrock production like XO, but then the Velvet Underground and the Stones kept entering in," says Simon.
Division Street was recorded with a small coterie of guest musicians—including Pete Thomas from Elvis Costello's Attractions on drums, Nikolai Fraiture from the Strokes on bass, vocals by Inara George, Feist's musical director Brian LeBarton playing synths, as well as Nate Walcott from Bright Eyes and Wilco's Mikael Jorgensen. "I'm very lucky," says Simon. "Everybody that we asked to come and guest on the record showed up."
The video for Harper Simon's new single, Bonnie Brae is below. The piece was directed by George Salisbury who is well-known for his work with The Flaming Lips.

Latest posts by Christopher Anthony
(see all)