Gliss


Langsom Dans
Modern Outsider Records [2013]



Fire Note Says: Gliss return after 4 years with an evolved sound.
Album Review: Gliss is a Danish/American three-piece that seem to release a record every three or, in this case, four years as Langsom Dans is their third long player since the band's 2006 debut. In music years this is an extraordinary amount of time but Gliss still retain some of their fuzzy shoegaze vibe from before but now start to peak their head out into other territories on Langsom Dans.
The first notable difference on Langsom Dans is that Gliss is less reliant on guitars. Devotion Implosion (2009) was full of razor sharp guitar riffs that surrounded the fuzz and kept it somewhat in order while letting the band just take off. Langsom Dans is much more reserved in that the tracks have a more pop forwardness to them as the vocals are now clearly out front. First single, "Weight Of Love" is a good representation of this as the ballad showcases the siren vocals of lead singer Victoria Cecilia and the big swooping chorus gets ingrained in your head.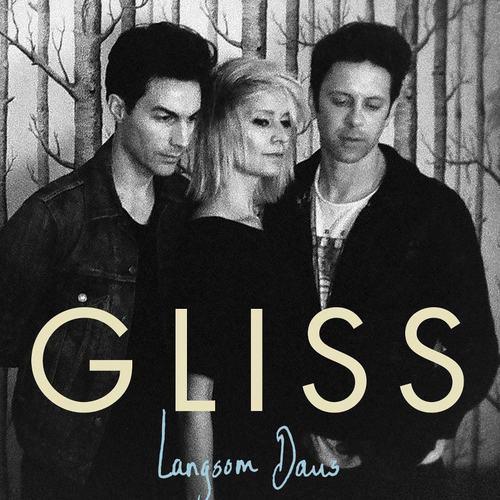 The band also gets deeper into synths and driving beats on Langsom Dans that creates a much darker side to the group. The driving "A To B" sounds like it just hovers above a smoke filled club while "Hunting" has a spiraling effect as it takes the listener up then pulls them back down to almost drown under the instruments. This edgy other side to Gliss is a plus and adds to the listening experience.
"The Sea Tonight" is a good example of 2009 meeting 2013 as Gliss brings back the guitar but creates some of the biggest pop choruses the record has to offer as the song just bounces between the riffs. This evolving direction for Gliss works as Langsom Dans has solid footing but the lack of striking guitar throughout will definitely lose some past fans. The album runs a bit long at almost an hour and would have benefited from some editing as the last three tracks are 5, 5, and 8 minutes in length. In the current music scene Langsom Dans fits in with many of the other groups that have recently been adding more synths to the mix although I will fully admit I still would have liked to hear that guitar roar a few more times on this outing. Regardless of the small several issues I had with Langsom Dans I am sure that Gliss will add a new batch of followers because at the end of the record you easily will find yourself reaching back to hit play again!
Key Tracks: "Weight Of Love", "The Sea Tonight", "A To B"
Artists With Similar Fire: The Knife / Depeche Mode / Beach House
Gliss Website
Gliss Facebook
Modern Outsider Records
-Reviewed by Christopher Anthony
Latest posts by Christopher Anthony
(see all)