Yellow Red Sparks


Yellow Red Sparks
Org Music [2013]




Fire Note Says: Yellow Red Sparks make a strong debut on the indie folk scene!
Album Review: "Whatcha gonna buy me honey?" is the strong first line you hear on the debut from the Yellow Red Sparks that instantly grabs your attention and makes you take notice. The LA indie folk trio is driven by the confident vocals of songwriter frontman Joshua Hanson. His voice is a true blend of Ryan Adams meets Colin Meloy which in my book, makes for an excellent match. There is even some comparison to the tone of Richard Edwards from Margot And The Nuclear So And So's which would be more obvious if the Yellow Red Sparks traded folk for rock. The eleven songs here on the band's debut consistently hit emotional chords, strike out with memorable harmonies and have stylistic arrangements that only add to the Yellow Red Sparks strength.
The one piece that really helps the Yellow Red Sparks debut stand tall is the how Hanson sings every line like it is his last. On "My Machine Gun" he pleads desperately "why would you mess with my head" which draws you into the track or in "Monsters With Misdemeanors" when he sings "I'm just sick of the monsters that we chase everyday" the song becomes very easy to identify with. This strong lyrical content consistently offers an honest perspective as song after song just gets in your head.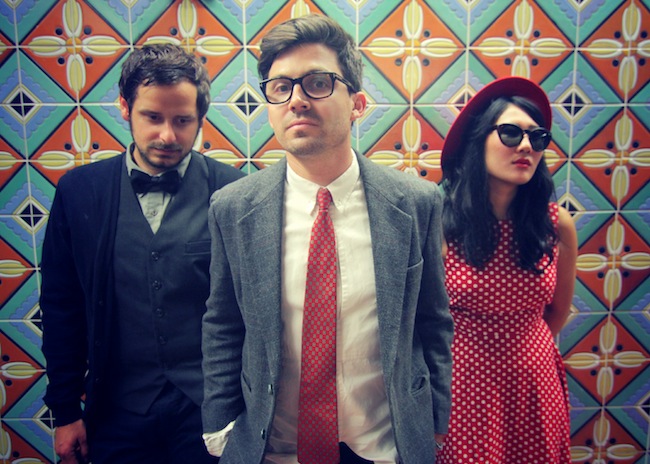 Another strength of the Yellow Red Sparks debut is its spectacular sound that is the result of Ted Hutt's (Gaslight Anthem, Lucero, Flogging Molly) production, mixing by Grammy award winner, Ryan Hewitt (The Avett Brothers, Red Hot Chili Peppers), and the mastering by multi-Grammy award winner, Brian Lucey (The Shins, Sigur Rós, The Black Keys). It also helps that Hanson expanded his once solo moniker to now include permanent members Goldy (drums and vocals) and Sara Lynn (upright bass, piano, vocals and banjo) which completely rounds out the band and gives the songs a true depth like on the layered explosion that can be found toward the end of "A Play To End All Plays."
Yellow Red Sparks is an easy listen as its timeless appeal will have you coming back for more quickly. It is a record that works in pieces and as one listen – so it plays well for all occasions. The album has everything that I like in a solid debut – great songwriting, honest emotion and songs that just get better after every spin. I already predict that Yellow Red Sparks will end up in The Fire Note Top 50 of 2013!
Key Tracks: "My Machine Gun", "Yellow Red Sparks", "Monsters With Misdemeanors"
Artists With Similar Fire: The Avett Brothers / The Lumineers / The Decemberists
Yellow Red Sparks Website
Yellow Red Sparks Facebook
Org Music
-Reviewed by Christopher Anthony
Latest posts by Christopher Anthony
(see all)