Ty Segall & Mikal Cronin


Reverse Shark Attack
In The Red Records [2013]


Fire Note Says: A timely reissue of a little heard and excellent collaboration from two highly regarded artists!
Album Review: The only question I had going into my first listen of the reissue of this 2009 collaborative album was not would it be good, but exactly how good would it be? Both Ty Segall's and Mikal Cronin's resumes speak for themselves. Segall is the reigning king of garage rock, and Cronin sits at his right hand as bass player for The Ty Segall Band, and as a rising artist in his own right having released an excellent 2011 solo debut, and a forthcoming 2nd record to be released this year on Merge. Reverse Shark Attack definitely lived up to my lofty expectations!
From the opening drum beat of "I Wear Black" to the closing surf guitar freakout of "Reverse Shark Attack" this record doesn't let up one bit. It's a full on frontal assault of melody washed over in feedback and reverb. At only 8 songs and just over 25 minutes, with the title track alone being over 10 minutes, it would be easy to see this as just a throwaway release, but when the talent is of this caliber, that's seldom the case. The record may be short, but it's not short on excellent tunes, guitar freak outs, or experimental production techniques. Taken as a whole, the record is much more satisfying than the also recently reissued Traditional Fools record.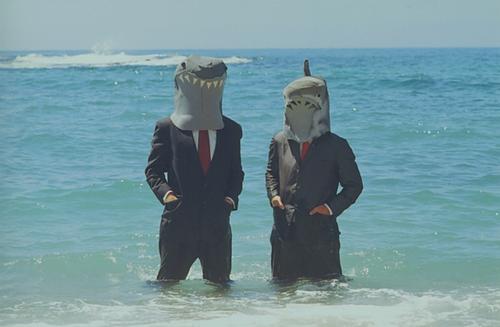 The duo sound relaxed and confident on these tracks, and the ease with which they work together and complement each other has continued to bleed over into their continued recent work together. These guys sounded like the band featured on Slaughterhouse from the get go. Throwing in an excellent cover of a Pink Floyd song from The Piper at the Gates of Dawn is a welcome surprise. They nail the lysergic vibe of the Floyd circa Syd Barrett and manage to make the song their own, which is no easy task when dealing with a song from one of the most recognized psychedelic masterpieces of its time. I urge you to hunt down that Pink Floyd record if you haven't already and compare the two versions of "Take Up Thy Stethoscope and Walk".
As I mentioned, "Reverse Shark Attack" is a ten minute track which features multiple major song changes and an ending guitar jam that calls to mind the legendary" Miserlou" by Dick Dale. This is an excellent reissue of an album that deserves to be heard by a wider audience than originally got to hear it, and with the growing spotlight on the two collaborators, now is the perfect time to reissue it!
Key Tracks: "Reverse Shark Attack", "Take Up Thy Stethoscope and Walk", "I Wear Black"
Artists With Similar Fire: Thee Oh Sees / Black Lips / Pink Floyd
The Traditional Fools: The Traditional Fools [Fire Note Review 1/23/13]
Ty Segall: Twins [Fire Note Review 10/12/12]
Ty Segall Website
In The Red Records
-Reviewed by Kevin Poindexter
Latest posts by Kevin Poindexter
(see all)