The Traditional Fools


The Traditional Fools
In The Red Records [2013]


Fire Note Says: Early Ty Segall band is reissued by In The Red, and you are going to want this for your collection!
Album Review: If I give you three key pieces of information, you will most likely be able to figure out exactly whether or not the self-titled album from The Traditional Fools is for you or not.
1. Ty Segall was a member of the surf rock/garage trio.
2. In The Red is reissuing the rare 2008 lp.
3. It contains 12 songs in just over 22 minutes.
All of these three things appeal to me immensely so I was all over this reissue, and it doesn't disappoint. It sounds exactly like you think it's going to, raw, reverb-y, buried in sonic sludge, catchy as heck, shredding vocals and guitar. While the songs aren't exactly what one would call classics (in fact they are fairly run of the mill for this genre), the raw passion more than makes up for any shortcomings in songwriting. "Davey Crockett" reminded me of a lower fi version of the Nuggets era classic "Farmer John" (also famously redone by Neil Young on Ragged Glory), it's the first song on the album, and you immediately know you are in for a fun ride. "Snot Rag" is another glorious surf stomper that sounds like Dick Dale on acid, and is over before you know it. "Kill Someone You Hate" is an excellent cover of a Redd Kross song off their debut record Born Innocent from 1981.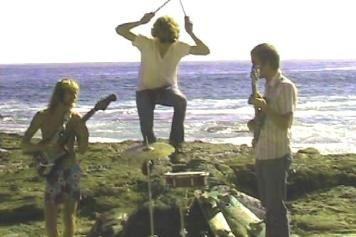 This record flies by incredibly quickly and begs to be played multiple times in a row, and at a scant 22 minutes, this is easily accomplished! Segall has gone on to bigger and better things, but his immense talent was evident even on this record. Though it feels a bit embryonic, it's definitely one any Segall fan is going to need for their collection. In The Red is also reissuing his 2009 collaboration with Mikal Cronin, Reverse Shark Attack, another must have for your collection!
Key Tracks: "Davey Crockett", "Snot Rag", "Kill Someone You Hate"
Artists With Similar Fire: Sic Alps / Jay Reatard / Thee Headcoats
Ty Segall: Twins [Fire Note Review 10/12/12]
Ty Segall Website
In The Red Records
-Reviewed by Kevin Poindexter
Latest posts by Kevin Poindexter
(see all)