The Joy Formidable


Wolf's Law
Atlantic Records [2013]




Fire Note Says: Wolf's Law is the record Joy Formidable fans were hoping for…and then some!
Album Review: How do you follow-up a record like 2011's The Big Roar, which was my #2 album of the year in 2011? After all, as great as that record was, it's four best tracks were reworkings of the best four tracks off of 2009's little heard A Balloon Called Moaning, what would The Joy Formidable come up with when left to write a full album's worth of material? With Wolf's Law, the band proves they are more than up to the task, and have actually bettered that album!
Bassist Rhydian Daffyd ,singer/guitarist Ritzy Bryan and drummer Matt Thomas, have crafted an album that sounds both incredibly huge, and startlingly intimate, sometimes with in a matter of a few measures. There's no doubt that they have mastered the loud/quiet/loud dynamic that I'm a complete sucker, and tracks like album opener "The Ladder is Ours" and "The Leopard and the Lung" demonstrate this perfectly. The band always seems able to reach for another gear at precisely the right moment to kick a song into overdrive and have it reach the stratosphere. "Silent Treatment" is something else entirely; it's a gorgeous acoustic song that soars, not on the strength of the band, but on the strength of the melody and Ritzy's haunting vocal. This is new territory for the band, and one that they really ought to continue to explore. I recognized this song immediately as the new song that they debuted at their Cincinnati stop on tour for The Big Roar. It blew me away that night, and it's even better on the record.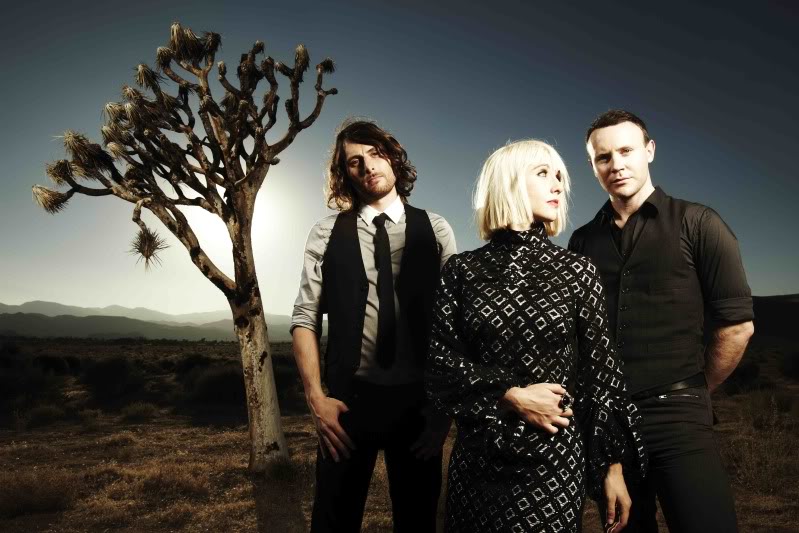 Thomas's drumming is stellar throughout the record, but particularly so on standout track "Tendons", a song which is perhaps the most direct reference on the record to the real life relationship between Daffyd and Bryan, or perhaps it's about the pressure of being in a band that is ready to break big, or perhaps it's about both of those things rolled into one. There is really only one misfire on the record, "Maw Maw Song" is overlong and has me reaching for the skip button. Other than that, it's darn near a perfect guitar record. The guitars are loud, the drumming is spectacular, and the bass is more prominent than it was before, at the center of it all is the voice of Ritzy Bryan.
This is a band on the verge of taking it to the next level, making a record that sounds like they've been on top the whole time. Go see them live in a club while you still can, they won't be there much longer.
Key Tracks: "The Ladder is Ours", "Silent Treatments", "Tendons"
Artists With Similar Fire: Doves / Arcade Fire / Yeah Yeah Yeahs
The Joy Formidable Website
The Joy Formidable Facebook
Atlantic Records
-Reviewed by Kevin Poindexter
Latest posts by Kevin Poindexter
(see all)