DRGN KING


Paragraph Nights
Bar/None Records [2013]



Fire Note Says: DRGN KING debuts with a diverse album that demands multiple spins.
Album Review: DRGN KING is comprised of Dominic Angellella and Brent "Ritz" Reynolds – Paragraph Nights is their first full-length release. The two formed in Philadelphia with Angellella performing many of the songwriting duties while Reynolds handles production. The two count their music influences to be vast which is evident on their debut album.
The album opens on an interesting note with the title track, 1 sub 2-minute track with sparse piano and simple lyrics. I dug the tone of the track and looked forward to the rest of the album. Immediately following "Paragraph Nights" is "Menswear," with distorted guitars and sing-along choruses. The difference between these two tracks is striking and left me off balance for what was to come next. What I found was an album that did not suffer from listener fatigue, which I often encounter with records these days. The diversity on this album gave it a strong grower potential – I can attest to the album's listenability improving with each spin. One track that got better each time was "Warriors." I initially didn't notice this one the first time through the album but its groove had a nostalgic sound to it. "Caught Down" was my favorite song on the album – it has a chugging pace to it that creates a sense of urgency. In fact the second half of the album is much stronger than the first, so make sure to give it a chance before moving on!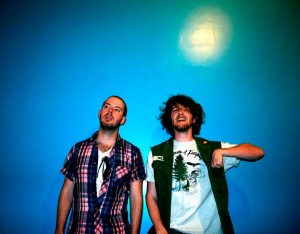 Finding bands similar to DRGN KING was a challenge due to different styles they employed on their first album. I heard industrial, alt-country, classic rock and neo-new wave influences throughout. I will admit that the first time I listened to Paragraph Nights I found it be disjointed and scattershot – after a few additional spins my opinion of the album has changed dramatically. While there is not a standout single, nor a song that says "This is DRGN KING," the album in its entirety is a solid offering. I'm glad I took the time to give Paragraph Nights a few listens.
Key Tracks: "Menswear", "Warriors", "Caught Down"
Artists With Similar Fire: Kings Of Leon / The War On Drugs / Wilco
DRGN KING Website
DRGN KING Facebook
Bar/None Records
-Reviewed by Matthew Heiner
Latest posts by Matthew Heiner
(see all)